15 April 2016

Vienna Insight: the creators of the nature cosmetics label 'Sisi and Joe'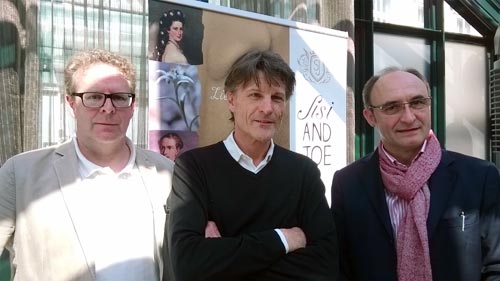 Recently on 13 April, the Austrian beauty label 'Sisi and Joe' invited to the restaurant 'Clementine im Glashaus' at the orangery of Palais Coburg in Vienna. The products' ingredients are composed around the alpine flower edelweiss; they are 100% vegan, 100% natural, 100% developed without animal testing and 'Natrue' certified. The label is very young; it started at the end of last year and entered the market with one of the most important beauty distributors in Austria, the retail store chain dm-drogeriemarkt. It's available for affordable prices at currently around 350 dm-stores.
fig. from left: Graz-based cosmetics label 'Sisi and Joe' was founded by Jörg Tinnacher and Gerhard Schmid and is supported by business angel Peter Kurt Fromme-Knoch.
On this day, product manager Gerhard Schmid spoke about the challenge to harvest edelweiss flowers and the founders' collaboration with the University of Innsbruck (Tyrol) for know-how about earning active substances of edelweiss for cosmetics and for knowledge about building alpine gardens. This summer, the next harvest is scheduled in the Austrian region of Styria.
The product range consists of seven 'Sisi' (for women) and four 'Joe' (for men) products. Bestseller (during the first months) at the women's range is the bath and shower gel which convinces with its fresh scent and gentle texture. The men's day and night cream is practical; the ingredients ginger and cardamom spread a surprisingly sophisticated and relaxing scent.
The packaging of the women's line shows red, white, pink roses and makes think of porcelain in times of Empress Elisabeth of Austria who is probably better known as 'Sisi' (1837 – 1898); the 'Sisi' line pays tribute to Elisabeth and the legendary first meeting with her later husband Emperor Franz Joseph in the Austrian alps where 'Sisi and Joe' felt in love. The men's bottles, tubes are decorated with floral graphics in the style of late 19th century wallpapers of aristocratic salons. The name of the line 'Joe' references Emperor Franz Joseph (1830 – 1916). At the image above left behind Gerhard Schmid, pictures of Sisi, an edelweiss and Franz Joseph are on view. The flower edelweiss stands in Austria as symbol for deep love.


more beautyme>