27 December 2016

Tip SS2017: Velvet skin for shoulder-free fashion
Fashionoffice looked through new (already available) and upcoming products for Spring/Summer 2017 and selected three trendy items.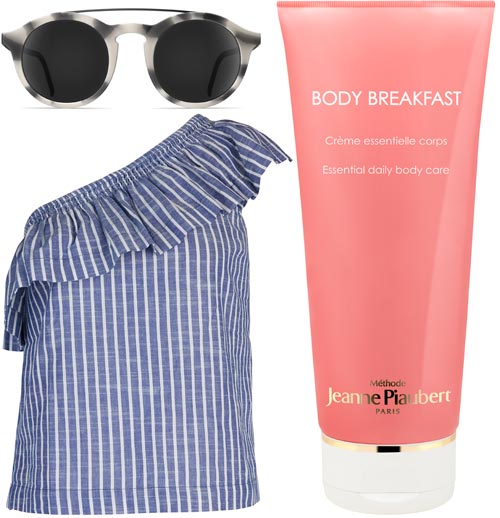 Skin care products such as the 'Body Breakfast' lotion by Jeanne Piaubert are composed for several tasks: to refresh during the bathroom routine with energizing scents, to care with moisturizing extracts like raspberry, and to protect the day over with vitamins like E and C against pollution. The 'Body Breakfast' lotion is already available. It makes the skin velvet-like smooth; small amounts of the light body care are enough for the effect.
The One-Shoulder Blouse by Esprit is from next year's collection which consists of a wide range of casual items. The One-Shoulder Blouse in classical striped denim-marine inspired fabric evokes associations with sunny city beach or terrace cafés. It fits the day over until after work to jeans (from white, blue to red, green or yellow) and skirts (from silky wide ones to narrow cut skirts made of black leather or natural suede).
The sunglasses 'Toni' with frame in matte Cookies & Cream design is from the upcoming January 2017 collection by Neubau Eyewear. The Austria label references with its designs icons of culture history - if its the father of psychoanalysis Sigmund Freud or movie characters like the pilot played by Tom Cruise in Top Gun. The designs - such as the 'Toni' sunglasses on this page - are named after Neubau co-workers.


more beautyme>