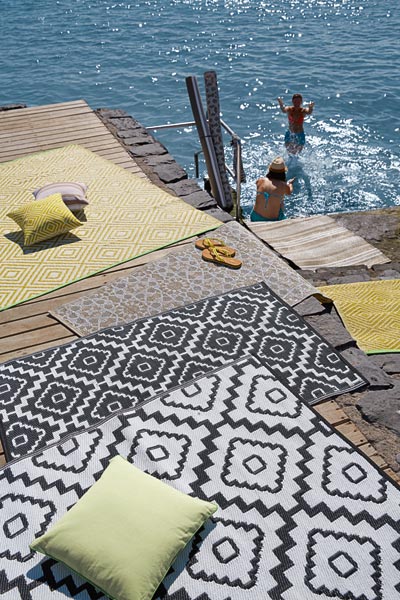 26 March 2015

Carpets, seats, fashion and beauty for the Moroccan pool style
'Summer Lounge' is the latest trend theme at the online shop of the in- and outdoor furniture and home accessories store chain 'Depot' (around 400 stores in Germany, Austria, Switzerland). One of the highlights is the Marokko carpet for outdoor. On the image right, it's on view from both of its sides and is arranged with other carpets like the light green Diamant and the soft grey Mosaik.
For the Moroccan carpet, Depot has also fitting seat pillows and poufs like the seat pouf in white/black on the image below.
Fashionoffice collected some additional items for the 'Moroccan Pool Style':
Yves Saint Laurent's 'Couture' nail lacquers are inspired by beauty rituals and fashion of Morocco; 'Brun Henné' pays with its warm red-brown color tribute to the temporary henna tattoos of Moroccan women and the yellow mustard of the 'Jaune Babouche' lacquer is an homage to the traditional Babouche-slippers made of camel leather. Left, the eye color palette 'Mauresques' captures the impression of the rising sun over the dunes of the desert. The new 'Saharienne' collection by YSL Beauté will be in shops from the end of April 2015.
The Biotherm Solaire line is already in shops now. New is the 'Aqua-Gélee Autobronzant Visage' serum with self-tanning effects for the face. (Photo: (C) studioJ). New is also the 'Aqua Gelée Solaire' which is available in SPF 30 or SPF 15; last mentioned is developed to repair the skin from wind, sea and sun while it protects from sun rays.
Striped long dress by Michael Kors, seen at Peek & Cloppenburg in Vienna.