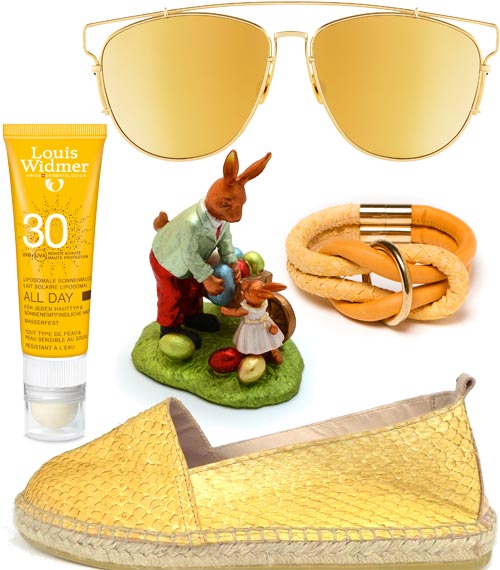 24 February 2015

Fashionoffice selection for Easter holidays
Easter Sunday will be celebrated this year on 5 April. In Austria, the next almost 40 days until Easter are used by many for planning the holidays and for fastening - some name last mentioned even energy boosting period or detox time.
Special care for the body and more sensuality for the own desires are main themes during the next weeks. Alongside to intelligent cuisine, the integration of workouts into the daily life (such as walking) is one of the trend themes. Fashionoffice collected some pieces in foresight of the upcoming warmer days with sun shine and walks at the shore of the sea or lake in mind.
fig.: Lips are often forgotten when applying sun care to the face. The 'All Day 30' sun protection with Lip Care Stick UV 30 in one tube by Louis Widmer is a good choice for longer walks; since this month available (25 ml/around 8,20.- Euros) in pharmacies.
The sunglasses 'DiorTechnologic' in gold (frame and shades) were presented at the label's prêt-à-porter show for SS2015. Photo: Christian Dior.
The yellow/honey bracelet 'Weber Fine' (calf and organic salmon skin with knot and gold ring) and the yellow reptile espadrilles are from Jana Keller's Royal Blush 'Desert Bloom' SS2015 collection. The leather/jute/rubber espadrilles are handmade in Spain and belong to the brand's 'City-Flats' series with cushioned insoles and leather lining.
And in the middle of the image, Easter decoration in retro style seen at the Viennese interior house Steinwender.

Related article: