25 July 2015

Lake Wörthersee yoga ritual sequence for energy and relaxation in the morning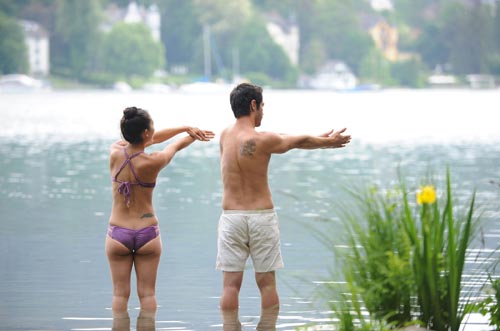 fig.: Lake Wörthersee 'Water Greeting'; the ritual is exercised by Bryce Yoga at the lake in Carinthia in the south of Austria. (C) Wörthersee Tourismus, Assam.
Recently, a new 'Namaste at the Lake' (Greeting at the Lake) video starring the duo of Bryce Yoga after the movement composition developed by yoga specialist Petra Musenbichler was released online (video below). The sequence carries the title 'Water Greeting' and is a sort of 'Morning Greeting'; it consists of movements which are ideally exercised in the morning before breakfast to relax the nervous system, enhance the digestion, stimulate the immune system and boost the body's energy.
The studied sports scientist Petra Musenbichler creates health concepts and is yoga instructor with special focus on climbers, mountaineers and athletes in general. Musenbichler's Milky Way Yoga has started with the elaboration of the Lake Wörthersee yoga project several months ago.
Currently, the schedule of Yoga at Lake Wörthersee foresees courses (even in mix with SUP and bike) by various trainers over summer to autumn; from 7 to 10 October, the workshop with Bryce Yoga will be held in Velden and Pörtschach in Carinthia, Austria.
Video: The sequence of the morning ritual is inspired by yoga, shiatsu, FX Mayr therapy and kinesiology. 'Water Greeting' (Wassergruss) created by Petra Musenbichler/Milky Way Yoga, starring Bryce Yoga (Briohny Smyth and Dice Iida-Klein). The video is the second of the 'Namaste at the Lake' series (1st video).




more beautyme>