10 March 2015

Natural ingredients as alternative to Botox?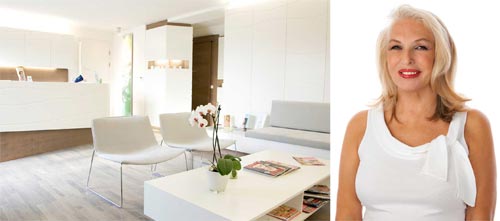 fig.: Privatklink Kiprov at Graben 27-28 in Vienna; (photo by Juergen Hammerschmid). Portrait Dr. Hajnal Kiprov; (photo by (C) Amriphoto).

Today, dermatologist Dr. Hajnal Kiprov invited to the press conference concerning soft methods of beauty medicine to one of her private clinics at the Graben in the Inner City of Vienna.
Beauty medicine is a controversial theme especially when the natural character of the face gets lost. This is one aspect which was pointed out by Dr. Kiprov who focuses with her team on soft methods to strengthen saggy skin. The methods vary from the new thread-lift 'Silhouette Lift' (quasi a non surgical little facelift) with strands which are absorbed after some time, to the 100% natural anti-aging 'Endermolift' method which can be described as deep skin massage that stimulates the connective tissue cells and increases this way the production of elastin and hyaluronic acid. But the main reason why Fashionoffice attended today's press conference was the new skin gel 'Biotulin' which was presented as alternative to Botox. The serum was described as not so long lasting as Botox but it shall turn the face even not into a mask. Fashionoffice searched Twitter via hashtag #biotulin and found not many tweets about the new 'magic cure' that was handed out in a very stylish black box which carries no information about the ingredients nor the quantity of the gel, only the writing 'Biotulin - Supreme Skin Gel' in white letters. At the leaflet-folder of the box, the ingredients are listed together with cited texts from media articles such as the one published by the Deutsche Apotheker Zeitung on 22 January 2015 (citation on the website of Biotulin). In Austria, the skin gel is exclusively available at Privatklink Kiprov.
Note: Fashionoffice tested none of the methods or the Biotulin gel and doesn't speak for or against one of the mentioned methods/products.


more beautyme>