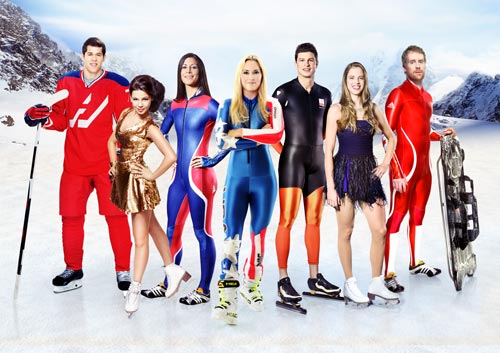 Fashionoffice starts this article about Olympic athletes and their moms in German language according to Google's current statistics concerning the magazine's usage geography (mainly requests from Austria).
Doku-Web-Serie zum Start in die professionelle Sportkarriere
Procter & Gamble startete Ende Oktober 2013 die TV-Kampagne 'Danke Mama' mit begleitenden Webvideos, die Athleten wie Gregor Schlierenzauer in Österreich gemeinsam mit ihren Müttern zeigen. In 28 Kurz-Dokumentation unter dem Titel 'Einen Olympioniken großziehen' berichten Winter Sport Athleten und ihre Mütter über die Kinder- und Anfangsjahre als professionelle Sportler. Die Kampagne und Web-Serie wird von mehr als 15 P&G Brands gesponsert.
fig.: The image shows the global family of athletes for Procter & Gamble's 'Thank You Mom' campaign on occasion of Sochi 2014 Olympic Winter Games, kick off on 28 October 2013. Evgeni Malkin (head&shoulders), Elena Ilinykh (Pantene), Shelley Rudman (P&G), Lindsey Vonn (Olay), Sven Kramer (Ariel, Gillette), Carolina Kostner (P&G), Jon Montgomery (P&G). Lineup, from left to right: Evgeni Malkin, Russian Olympian, Ice Hockey; Elena Ilinykh, Russian Olympic Hopeful, Figure Skating, Shelley Rudman, Great Britain Olympic Silver Medalist, Skeleton; Lindsey Vonn, U.S. Olympic Gold Medalist, Alpine Skiing; Sven Kramer, Dutch Olympic Gold Medalist, Speed Skating; Carolina Kostner, Italian Olympian, Figure Skating; Jon Montgomery, Canadian Olympic Gold Medalist, Skeleton. Photo: (c) Goinyk | Dreamstime.com.
Video: Lindsey Vonn is the advertising star this season. Not because she has currently the 'Tiger Factor' (article on AdAge); she combines success in sport and contemporary beauty. The U.S. Olympic Gold medalist in Alpine skiing is featured in the Olay campaign under the motto 'Look Winter Wonderful'. In the P&G web-series 'Raising an Olympian' on YouTube, Lindsey Vonn and her mother speak about childhood, the start into the career and the knee injury at the Alpine World Ski Championships 2013 (in February) in Schladming, Austria.




more beautyme>