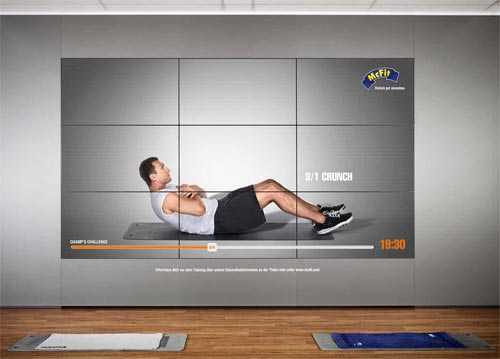 Cyber training with box champ
In early November 2012, the European gym chain McFit presented the new cyber training with box champ Wladimir Klitschko in Austria. McFit offers various self-developed cyber programs from spinning to Pilates, but the one with Wladimir Klitschko seems to be the most interesting.
Four time world boxing champion (Heavyweight) Wladimir Klitschko appears on the LCD-screen and motivates the training members of the courses 'Champ's Challenge I' and 'Champ's Challenge II'. The challenges consist of fitness exercises and boxing combinations. The box champ is the whole time during the workout actively involved into the program - and sweats with the group, virtually on the screen. The Champ's Challenge sessions will premiere in Austria on 16 November 2012 at McFit in Innsbruck.