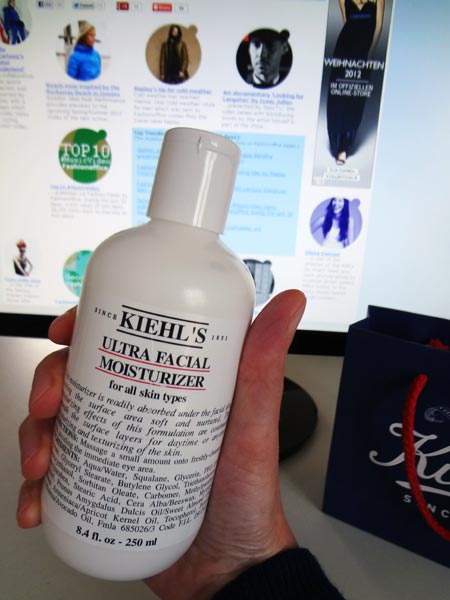 Beauty Insight
by Karin Sawetz, publisher Fashionoffice (December 2012)
Healthy ingredients inside, art on the surface, and charity for kids' future
I know Kiehl's 'Ultra Facial Moisturizer' from last year's special art edition in collaboration with Austrian painter Elisabeth Wedenig who contributed her image 'Ice Flower' showing an ice bear surrounded by flowers for the packaging design of the Ultra Facial Cream box. The 'Ice Flower' referenced Kiehl's sponsoring of a Greenland expedition where the protection abilities of the cream were tested. The Ultra Facial Cream was developed by Kiehl's (once founded as apothecary) to moisturize the skin in extreme climate like cold. I have tested the Ultra Facial Moisturizer (belongs to the label's heritage collection like the cream) last year through winter - and it is so good that I have bought it recently again after it was getting cold in Vienna.
Unfortunately, it is not packed up in art.
Kiehl's current special edition consists of four body care products (picture below) and shows the art work by Brooklyn and Los Angeles based pop-surrealist Kenny Scharf who describes his work as follows: "The Kiehl's packaging features my art called Globo Mundo that I customized for Kiehl's. Globo Mundo means representing the whole world or globe. This application of my art on the package was inspired by Kiehl's, its patrons and their work in communities around the world."
It is announced that Kiehl's holiday edition of the Creme de Corps range in Kenny Scharf package design will collect 200,000$ for kids organizations worldwide with focus on nature and the environment. In Austria for example, the money will be donated to Jane Goodall's Roots & Shoots youth program where kids learn to "...improve the environment and the quality of life for people and animals " rootsandshoots.org
fig.: Kiehl's Holiday Edition of the Creme de Corps collection in Kenny Scharf art packaging, 2012. The artist about his inspiration: "A lot of my characters or blobs as I call them already look like they could be lotion; all oily, oozy and blobby." 100% of net sales will be donated to more than 40 children's charities worldwide.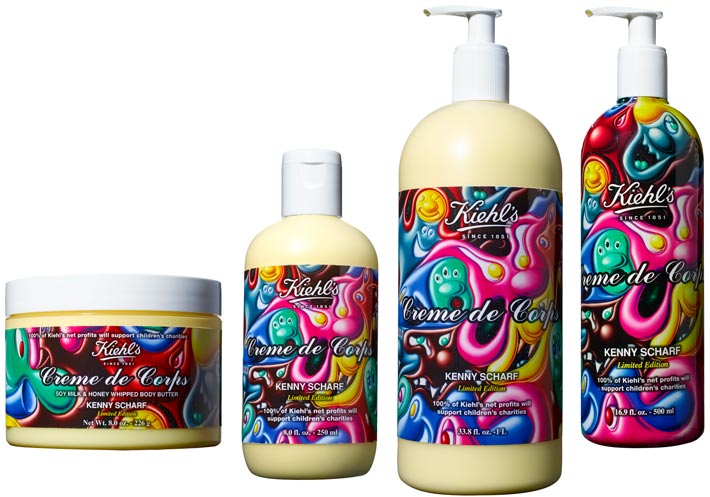 more beautyme>