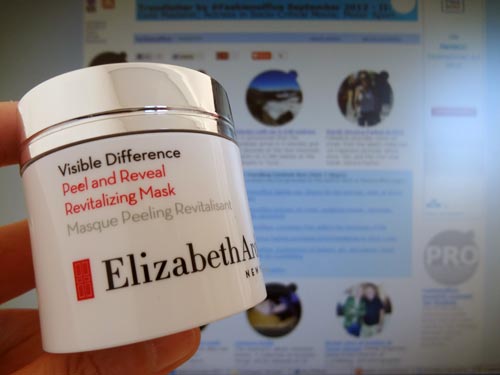 Beauty Insight by Karin Sawetz, publisher Fashionoffice (October 2012)

Revitalizing facemask
Through September until early October 2012, I tested the new 'Peel and Reveal Revitalizing Mask' by Elizabeth Arden on woman's and man's skin of different ages - with positive reactions. The test is far away from being representative in any way - not for the Austrian population and to say nothing of the world population or the countries such as represented in the statistics of the magazine. The test was made to bring slightly more objectivity into a beauty editorial about new skin care; testing is a journalistic method which is well known from motor journalism - why not in beauty!
Highlights of the product are the pleasant, relaxing scent of the semi-transparent texture and the remarkable effect of firm and refreshed skin - regardless of gender and age. Elizabeth Arden's 'Peel and Reveal Revitalizing Mask' from the new 'Visible Difference' line with focus on balancing skin for healthy and natural radiance on the level of professional Spa skin care treatments came into (Austrian) stores in September 2012.


more beautyme>