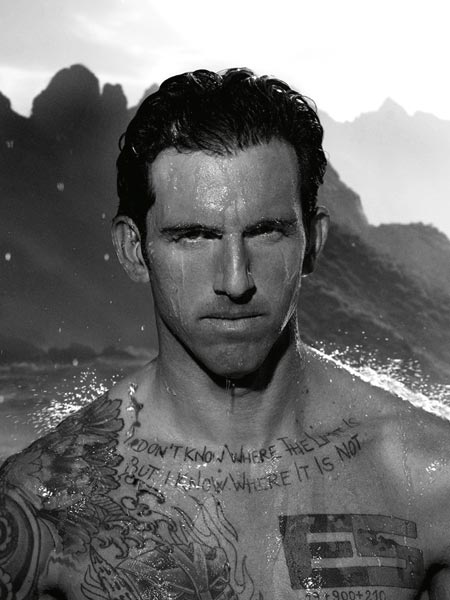 The tattoo of an athlete and skin care
In August 2012, L'Oreal unveiled the new campaign for the upcoming Biotherm Homme Youth Architect serum (out in September) with the Spanish triathlete and adventure racer Josef Ajram who has tattooed his life-motto under his skin: "I don't know where the limit is, but I know where it is not."

fig. right: Josef Ajram is the new Biotherm face for the representation of the values of the serum which is a booster of the skin's regenerative performance starting under its surface. Josef Ajram, born 1978 to a Syrian father and Spanish mother, is extreme athlete (Ironman, Ultraman 10 km swimming + 421 km cycling + 84 km running), family father, and trader on the stock market. His philosophy, which is published on the website of his sponsor Red Bull, meets the Zeitgeist when he states that life is not so much about winning but to feel good about the performance.

fig. below: The Biotherm Homme 'Force Supreme Youth Architect Serum' comes into stores in September 2012. The concept of the serum (which is lighter than a cream) is to re-build the matrix in deeper skin where for example collagen (responsible for elasticity) is produced. Biotherm works with ingredients which are developed from research in the fields bio-technology and 'green chemistry' like the company's own 'Pro-Xylane' molecule that is derived from sugar of beech trees. Pro-Xylane works against water loss, for the hydration of the skin and enhances this way its density. For the Youth Architect serum, Biotherm enriches blue-algae with this molecule. Photo: Bernard Jaspar, (C) studioJ.

Video: Josef Ajram during the Red Bull 7 Islands race on the Canary Islands. The seven days challenge started on 13 May 2012. 4km swimming, 180km cycling and 42km running every day for a whole week - that makes in total 28km swimming, 1,260km biking and 294km running. Josef Ajram had to break up the race for a hospital stop after a heat stroke (after 45 minutes on the bike in the dusty heat of 38-degree Saharan air his body was dehydrated); Josef Arjam announced that he will try it again.
In the video, Josef Arjam questions: "Where is the limit? Is that in life we always have goals and motivations, right? If life teaches you something is that things must be re-tried."