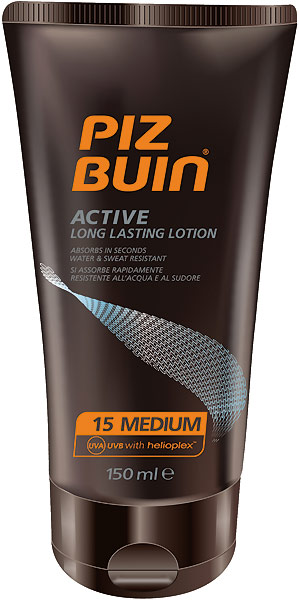 PIZ BUIN ACTIVE
spring/summer 2009


Sun protection for outdoor activities
In 2009 the Swiss label Piz Buin - in 1962 inventor of the worldwide standard Sun Protection Factor (SPF) - presents with Piz Buin Active a new formula of long-lasting sun protection for outdoor activities. It comes as a spray and a lotion in SPF10, 20, 30. The spray withstands up to 80 minutes of sweat and water contact; perfectly made for jogging on the beach, water sports... You don't have to renew this sunscreen after each swim!
Piz Buin Active contains Piz Buin's Helioplex™ sun filter technology. On the website of Piz Buin you will find an extensive 'Learn More' section about summer suncare where the Helioplex™ technology is described "...scientifically proven to maintain up to 90% of its active protection after five hours of sunlights. Sunscreens with Helioplex™ provide a photostable UVA and UVB protection...".

About Piz Buin
More than 70 years ago, the label was founded by the chemist Franz Greiter during his years of study after a severe sunburn while climbing the mountain Piz Buin on the Swiss-Austrian border in 1938. Together with his wife, a cosmetician, Dr. Franz Greiter worked on sun protection with additional moisturizing and care effects. In 1946 the chemist invents the world's first sun protection product, in 1962 Greiter introduced the Sun Protection Factor (SPF), which has now become a worldwide standard, in 1968 sunscreens with UVA and UVB broad spectrum filters...

The website pizbuin.com
Piz Buin has a very informative pocket guide "to sun smart behavior" on their website. There you will tips such as:
"Do not neglect those hard to reach and easily forgotten places like ears, feet and upper back.
Drink lots of water. Skin needs special protection in the sun not only from UV rays but from drying up too, because dry skin is more vulnerable to the sun.
Ensure babies and young children are not exposed to direct sun."

Check out the pocket guide for sun protection, beauty tips for After Sun... www.pizbuin.com.


more beautyme>>>