BIOMEDIC
by La Roche-Posay
fall/winter 2008

Healthy skin through medicine and "witchcraft"
What can you do against acne, hyper-seborrhea, damaged skin from to much sun exposure, pigment spots, skin that lost elasticity and got wrinkles or surface irregularities?
Modern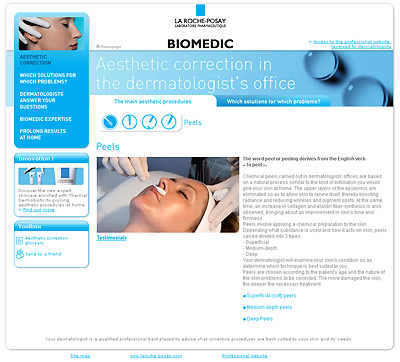 Medicine
The modern medicine is the best resource for "harder" cases. Problems with your skin can be caused by several reasons which become obvious by a specialist. This is the right time to ask your doctor before using medical products!
Some little steps you can take by yourself; such as peeling your skin at home.

Biomedic by La Roche-Posay offers a great product line which can be used for chemical exfoliation. It is recommended to peel the skin once or twice a year. The method is easy and acts fast. The wrinkles, pigment spots are diminished, and it makes acne diseased skin healthier.

With three products you are on an easy and comfortable way:
1. The LHA™ CLEANSING GEL is a foaming gel for the face. It has to be rinsed off.
2. The PRE-PEEL LHA™ SOLUTION is a leave-on cleansing solution.
3. The LHA serum helps to eliminate dead cells from the skin surface.
The three products are originally developed for the pre-peel preparation at the medical office. But perhaps you will find out that this soft peeling fulfill your needs. Don't forget to use a daily sunscreen while using the products!
Check out the site of Biomedic for more information www.biomedic.com.


Old Knowledge
The knowledge of herbarium can help on the other hand: such as one of the most important women of the European Middle Ages Hildegard von Bingen (1098-1179, scientist of nature and medicine, visionary, abbess and adviser of popes, emperors and saints ...) recommends to eat regularly sauerkraut, because of its richness of the "beauty"-vitamin A (makes the skin smoother and purifies), vitamin B (supports the regeneration of the cells) and lactic acid which acts against irregularities.

In times of Shakespeare (late 16th/early 17th century) and Goethe (1749 – 1832) other women succeeded the tradition of the knowledge of nature although the Malleus Maleficarum - known as the Hexenhammer or Hammer of Witches - written by inquisitors of the Catholic Church in 1486, didn't make it easy for these women. In the 15th century the old knowledge about nature was discredited as witchcraft and devils work. It was not easy to survive an inquisitor testing. Can you imagine how your hand looks like if you have to hold it into simmering water? Only the ones whose damaged skin looks healthy afterwards survived the test. Until the end of the 18th century mostly women have been accused and executed as witches.
But fortunately some rare books give an insight into the science of nature. "Witches'" cooking books offers advises such as eating garlic for pure skin, to spice your food with thyme (potatoes, veal, mushrooms, sauces for salad, ...) or mugwort (use it for the preparation of oily food such as pork, goose, duck,...). Try out and make a tea from peppermint. Some say it supports pure skin (acts against inflammations - acne). But be careful: it shall support virility!
Isn't it good to know that skin can become healthier through the things we eat?


more beautyme>>>