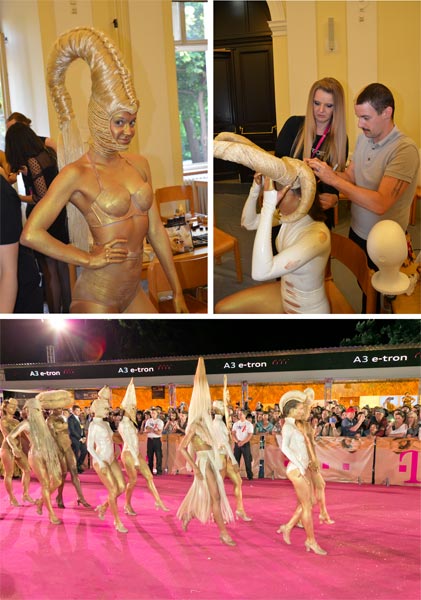 19 May 2015

Charlie le Mindu's Hairdreams creations at Life Ball
The Austrian brand Hairdreams (hair lengthening and thickening systems) sent some images of the collaboration with Charlie le Mindu at Life Ball which happened recently on 16 May in Vienna. The photos show members of the Hairdreams team and French haute coiffeur Charlie le Mindu backstage at work and the defilee of the 12 golden hair creations. Charlie le Mindu's 'Gold Sabah' hair art collection premiered in Paris. (Video with description of the collection which is inspired by African tribal culture). The hair sculptures matched the theme of this year's Life Ball around 'Gold' and 'Ver Sacrum' perfectly.

fig. from left, clockwise: Backstage photo of a model with hair sculpture that looks like an oversized plait or golden hood from the 'Gold Sabah' collection by Charlie le Mindu with hair by Hairdreams. Charlie le Mindu and Hairdreams stylist working on one of the 12 hair sculptures. Defilee of the twelve hair creations of the 'Gold Sabah' collection on the magenta carpet of Life Ball on 16 May 2015 in Vienna. Photos: (C) Hairdreams.
Hairdreams posted several other images which provide insights into the making of the Life Ball style on Facebook.