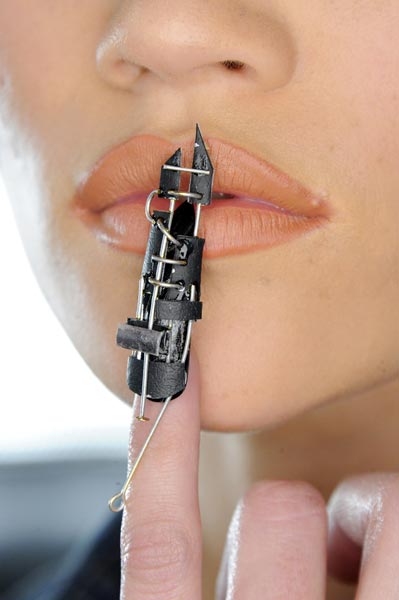 CND nail art for The Blonds FW2015 fashion show, 20 February 2015

Nail art inspired by anti-utopian future perspectives
The Californian label CND (nail, hand and foot beauty) collaborated once again with the New York-based 'The Blonds' for the presentation of the fashion brand's new collection. This season, CND and The Blonds beauty-fashion show happened at the New Yorker Milk Studios. The name of the studios fit to one of the stagings of the fashion show which was inspired by dystopian stories of iconic films such as 'A Clockwork Orange' (catwalk image on The Blonds' Facebook). For the apocalyptic look into sci-fi future of a world of displeasure where sciences, technologies and social systems went wrong, CND handcrafted the nails for the models in 20 different designs with 'dystopian elements'; like this one on this page which looks like a weapon-prosthesis.
The dramatic embellishments are made of CND's gels, shiny 'Shellac'-colors, 'Vinyllux' polish, and accessories like gold chrome, camouflage with metallic appeal and molten paillettes.
fig.: The image shows nail art by CND on a model backstage at The Blonds Fall/Winter 2015 fashion show at Milk Studios on 18 February 2015 in New York City. Photo by Jennifer Graylock/Getty Images for CND; (C) 2015 Getty Images. More pictures on cnd.com.
CND co-founder and Style Director Jan Arnold speaks in the video about the story of the runway show which begins with utopia...




more beautyme>