29 April 2015

Police photos of the 20ies, sci-fi and denim inspired the winner of the Austrian Hairdresser of the Year award Alexander Lepschi
On 26 April 2015, coiffeurs presented their new creations for the annual Austrian Hairdressing Awards in front of 1,000 guests at the 'Marx Halle' at Vienna's new media, technology, research and event area Neu Marx. The Austrian Hairdressing Awards are an initiative of Schwarzkopf Professional and were given this year for the 8th time to the best - this year selected from 2,000 contributions, in categories like Avantgarde (Roland Aichinger), Newcomer (Evelyn Karbach) and fields such as Colour, Women, Men. The winner of the main prize 'Hairdresser of the Year' is Alexander Lepschi of the Linz-based Lepschi&Lepschi salon. He won in several fields; on view on this page his winning creations for Women, Men, and Colour.
fig. above: Hairdresser of the Year Alexander Lepschi/Lepschi&Lepschi Hairdressing at the Austrian Hairdressing Awards ceremony on 26 April 2015 at Marx Halle in Vienna. Photo: (C) Katharina Schiffl.
fig. below: The women's collection 'Majestic Sci-Fi' combines ideas of past and future and can be described as coincidence of precise geometrical cuts with wild cyber-punk appeal. The men's collection '1920's Mugshots' is inspired by police photos of the 1920ies and was presented on models with beards. The colour collection 'Domestos Bleach' with denim-like coloring was developed from the idea 'bring fashion to hair'. Photos: (C) Stefan Dokoupil. The whole prize winning collection and the nominated works of the Lepschi&Lepschi team are published on lepschi-lepschi.at/kollektion/.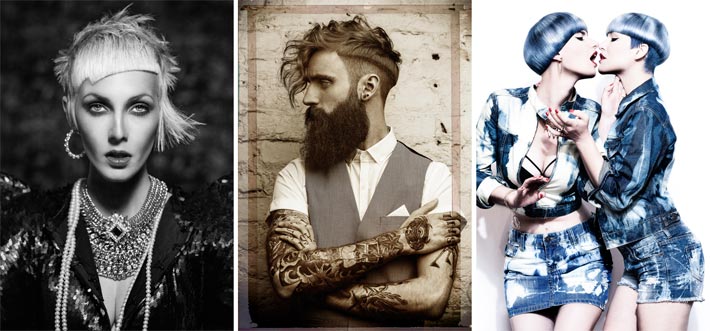 more beautyme>