Hairstyle inspired by images of nightclub dancers of the late 19th century
Inspired by the exhibition 'Henri de Toulouse-Lautrec' at Kunstforum Wien (16 October 2014 until 25 January 2015), Vienna headquartered hair salon chain Bundy Bundy created the art collection 'New Montmartre'. The images show elegant up-do styles made of braidings (image below left) and curls (picture right) which fit to this season's ball gowns. For the creations, the artistic team of Bundy Bundy used extensions by Hairdreams. The esthetics of the images (photography, fashion...) are inspired by Toulouse-Lautrec's Belle Époque posters for the nightclub Moulin Rouge and the paintings of scenes from backstage where the dancers prepared for their performances. Artistic director Hannes Steinmetz provides some insights into the development of Bundy Bundy's art collections: "For our art collections, I rely on art as a source of inspiration. I look through art books, I analyse works and then go into experimentation mode. You have to be a little crazy to do that. In this phase, we literally play with hair and we combine structures and shapes to create something new and unique."
fig.: 'New Montmartre' art collection by Bundy Bundy; Autumn 2014. Photos: Production - Bundy Bundy; artistic director - Hannes Steinmetz; creative director - Gerhard Kopfer; make up - Jasmin Kainer; fashion - Schella Kann; photographer - Inge Prader. The images of the collection are published on bundy.at.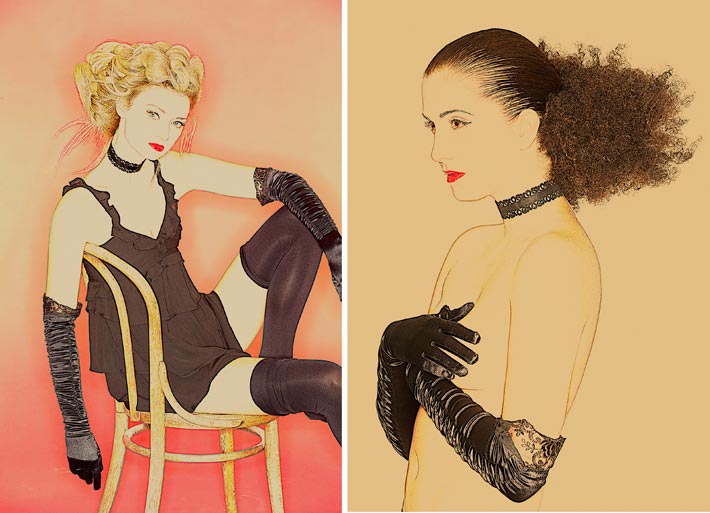 more beautyme>