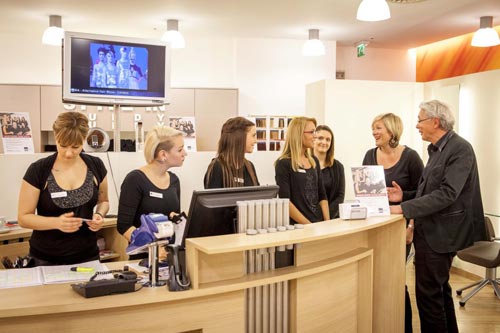 fig. above: On occasion of Bundy Bundy's apprentice week, trainees managed from 14 to 17 April 2014 the 'Style In' salon at the Donau Zentrum in Vienna; right on the image, one of the founders Hans Bundy and his daughter Vanessa Steinmetz-Bundy. Photo: Nadine Poncioni.
fig. below: Facebook post concerning apprenticeships.

Dual-education/work program for hair stylists
In mid-April 2014, education is a hot political theme in Austria. Originally, the country's school system is built for giving everybody the same chances to learn what he or she wants or where the talents are guiding adolescents. But currently, Austrian schools have the tendency to become too similar. A good alternative is an 'upgraded' apprenticeship such as hair salon chain Bundy Bundy offers.
Today on 17 April 2014, Bundy Bundy sent some photos from the company's apprentice week for introducing into the dual-education/work program for learning the profession of a hair stylist. The chain has an own school/academy and cooperates closely with the public (compulsory) school where students attend an own Bundy Bundy-class. At this dual-education, it is possible to achieve additionally a 'Matura' which is a higher school certificate (necessary to attend the university). More than one half of the stylists who work currently at Bundy once learned the profession as Bundy-apprentices; nine of the 14 salons are managed by former apprentices of the company.
This is a good way to upgrade the education system and the profession of a hair stylist!


more beautyme>