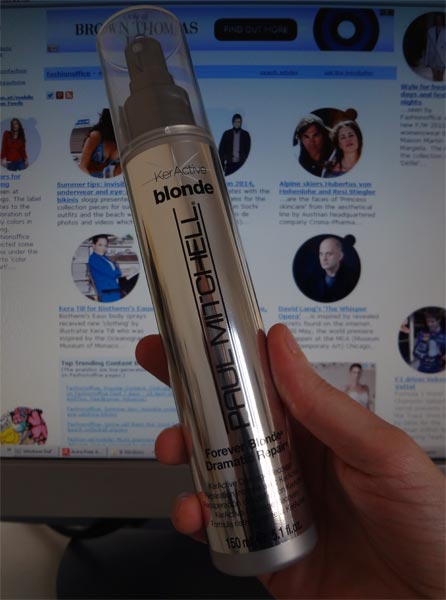 Hair Product Test by Karin Sawetz, publisher Fashionoffice
(23 April 2013)
Hair care test: Forever Blonde?
In mid-April 2013, Paul Mitchell sent product samples from the new line 'blonde' together with information for the press. The press release carried the message of the 'Myth of Blonde' and referenced Marilyn (Monroe) and legendary sex appeal. First I thought that I am not the right target group for this great looking silver packed product line.
I am not blonde, I have natural, not colored, not bleached hair which means my hair color responds to the natural surrounding stronger and changes with sun and light - sometimes my hair shines golden. But I am not 'blonde'.
Nevertheless, I tested the products from Paul Mitchell's new 'blonde' line which is developed for natural blondes and the ones with colored, strongly bleached, grey or white hair.
The 'Forever Blonde - Shampoo' is great. A small amount is enough and cleans perfectly. It smells good and the hair feels stronger and smoother. The reason for the effect lies in the moisturizing safflower oil ingredients and the KerActiv proteins which envelop the hair.
The 'Forever Blonde - Conditioner' is described as "subtly brightening blonde and highlighted hues". I can't really confirm the brightening effect. The hair feels good after the usage; it is not too heavy and easy to treat.
The last product from the 'blonde' line that I will mention here is the 'Forever Blonde - Dramatic Repair'. I have tested it several times (photo above). Recently after swimming in chlorinated water, the hair was dried-out from the chemicals and in a miserable condition. I cleaned the hair with a shampoo from another line but used afterwards the 'Forever Blonde - Dramatic Repair', a mixture consisting of macadamia nut oil, KerActiv proteins and safflower oil. It made the stressed hair feeling healthy (and lightly falling) again.
Paul Mitchell introduces with the video into the new 'blonde'-line and provides in the video description closer information to the products.