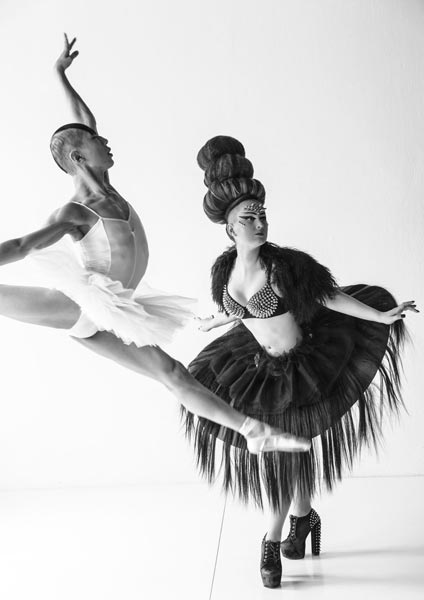 fig.: Bundy Bundy artistic team member Philipp Mairleb's hair styling for the Fondation Guillaume contest in Austria, June 2013. Photo: BUNDY BUNDY/Inge Prader.
Hair styling explained with reference to German poet Friedrich von Schiller

"Nothing in nature is isolated. Nothing is without reference to something else. Nothing achieves meaning apart from which neighbour it is," cited legendary hair dressing icon Vidal Sassoon the ideas of German poet Friedrich Schiller for his introduction into the work of Guillaume Guglielmi (video below with examples of hair styles through history with reference to Zeitgeist themes). Guillaume's contributions as coiffeur to culture received special honors by French minister of culture Jack Lang in 1986.
Guillaume Guglielmi combined art, fashion and hair dressing techniques for his stylings; he created his styles first in clay like a sculptor and entered hair history with several stylings such as for Dior's 'New Look'. In the 80ies, Intercoiffure Mondial (organisation of hair dressers in 55 countries; head office 'House of Nations' in Paris) founded Fondation Guillaume with the mission to encourage young hair dressers to work in Guillaume's spirit.
In early June 2013, hair styling salon chain Bundy Bundy (headquarters in Vienna) sent the information that three team members of the Bundy Bundy artistic team won (place 1 to 3) at the Fondation Guillaume contest in Austria. The depicted hairstyles on this page didn't achieve the first place at the Fondation Guillaume contest; but the presentation by photographer Inge Prader with link to today's gender culture expresses the idea that even hair is not an alone-standing culture product quite well. Find the photos of the award on facebook.com.
Video: Iconic hair stylist Vidal Sassoon introduces into the work of Guillaume Guglielmi (1903-1989).