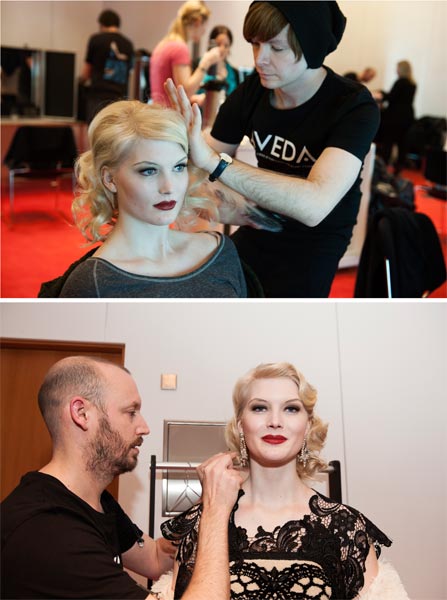 Carpet couture runway show

On 17 January 2013, the Canadian home outfitter Korhani premiered in Germany with its carpet couture runway show for home fashion during Berlin Fashion Week. The hair style of the models was created by the team of Aveda.
Founded more than 100 years ago in the early 20th century, Korhani provides 'fashion' for interior like carpets and other home furnishings. Creative Director Kirsten Korhani incorporates into the collections the experiences she made in fashion industry. For the presentation of the home textiles, the fabrics are manufactured as clothing items like day and evening wear, ball robes, and boudoir outfits which are shown on the runway such as at the Master Card Fashion Week last October 2012 in Toronto (video blow).
fig.: On 17 January 2013 in Berlin, the Korhani textiles were styled in FW2013/14 fashion. The hair dressing was developed in collaboration with the team of the cosmetics and hair care label Aveda which was inspired by the glamour of German actress Marlene Dietrich.Aveda Artistic Director (German language Europe) Bastian Casaretto explains the decision for Marlene Dietrich with her representation of a timeless icon of a strong woman and says that this image has survived decades of looks which are incorporated into the Korhani home textiles.
Currently, Korhani presents on its website the 'Puttin' On The Ritz' collection which reminds Art Deco, Jugenstil; for February, the label announces 'French Affair', in May 'Tropical Paradise'. In 2013, the Canadian company plans to launch retail locations in Germany.
Video: Korhani Home fashion show during Master Card Fashion Week in October 2012 in Toronto. "With an understanding that fashion has no boundaries, Kirsten Korhani's love for creating beautiful spaces proves that trend transcends industry boarders," introduces Master Card Fashion Week into Chief Designer and Creative Director Kirsten Korhani's approach to this fashionable presentation of home textiles.