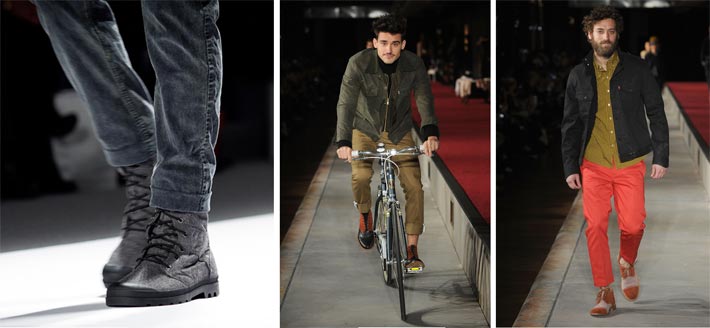 MEN'S STYLE 2012
Sportive movement, intelligent skincare, easy style
fig. from above, left:
Palladium boots in 'Urban Nomad' style designed by Richard Chai (received 2007 the Ecco Domani Fashion Foundation Award, finalist of the CFDA/Vogue Fashion Fund 2008, etc) on the designer's FW2012/13 runway on 9 February 2012 during New York Fashion Week. Photo: (C) Bryan Derballa. Palladium announces for October 2012 the worldwide release of the new 'Richard Chai for Palladium' collection.
Man in Levi's outfit on a bicycle in green jacket, gold-brown jeans and man in red jeans, dark worker jacket, gold-brown shirt; by Levis FW2012. The Levi's FW2012 catwalk presentation with references to the lifestyle of urban citizens (like the bike on stage) happened on 15 February 2012 during New York Fashion Week at the event location '82 Mercer' in SoHo. It was the premiere of the label's first global collection. Photo: Dimitrios Kambouris/Getty Images for Levi's, (C) 2012 Getty Images.
The following tip for intelligent skin care (done as easy as using a soap and a towel and more effective) consists of a cleansing cream which scrubs away old skin and prepares for the overnight serum.
Cleansing Scrub by '3 Lab'; seen in February 2012.
MAX LS Overnight Renewal Serum by 'LAB Series Skincare for Men' (available since February 2012). .
Paul Mitchell presents the new men's products 'Mitch' (available since February 2012) together with hair styling tips (dynamic style done with fingers and shiny pomade) such as on the photo below. The line consists of the 'Double Hitter' 2-in-1 shampoo/conditioner for daily usage and various sculpturing products like gel, cream, or the pomade 'Barber's Classic'.