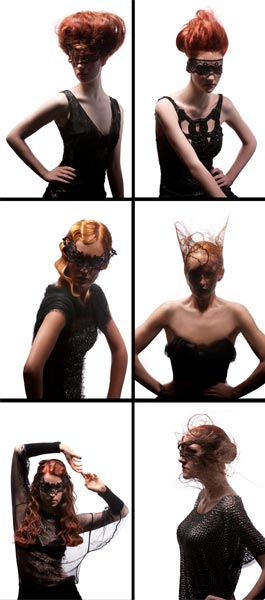 Eyes wide shut
...is not only the name of the famous Stanley Kubrick movie with Tom Cruise and Nicole Kidman in the man in roles after the 'Traumnovelle' ('Dream Story', 1926) by the Austrian novelist and play writer Arthur Schnitzler. For some, 'Eyes wide shut' is life motto!
The style for elegant evening and ball events such as presented in the movie 'Eyes wide shut' where people wear masks to hide their identity - or see each other without realizing the other's true face, never came out of fashion in Austria. Anonymous celebrates in Vienna elegant nights!
In September 2012, the Vienna headquartered hair artists team and producer of hair care products 'Bundy Bundy' launched the new art collection 'Mystery Dream' for Fall/Winter 2012/13. Bundy's 'Mystery Dream' is inspired by Arthur Schnitzler's 'Dream Story'.
fig. right (selected photos from Bundy's art collection FW2012/13): By looking through Bundy's 'Mystery Dream' art collection, the timeline of the inspirational source for the hair creations begin at the turn of the century (first picture, left above), with strong focus on the 1920ies (picture in the middle row, left) when the Arthur Schnitzler novel originally plays, to hair dressings of the 1960/70ies (picture left in the last row). These styles with historical appeal find their counter parts in hair dresses which look like created for SciFi movies - elegant vintage is spiced with grunge-future-punk (pictures in the right column). The collection pays homage to the 150th anniversary of Arthur Schnitzler who was born 1862 in Vienna.
fig. below: The family owned business Bundy Bundy (founded 1919) has approximately 20 salons and two educational trainings centers for young hair dressers in Austria. On the photo: Hannes Steinmetz (assistant general manager and artistic director at Bundy), Vanessa Steinmetz-Bundy (director of administration and communication), Hans and Georg Bundy.
Photos: Inge Prader.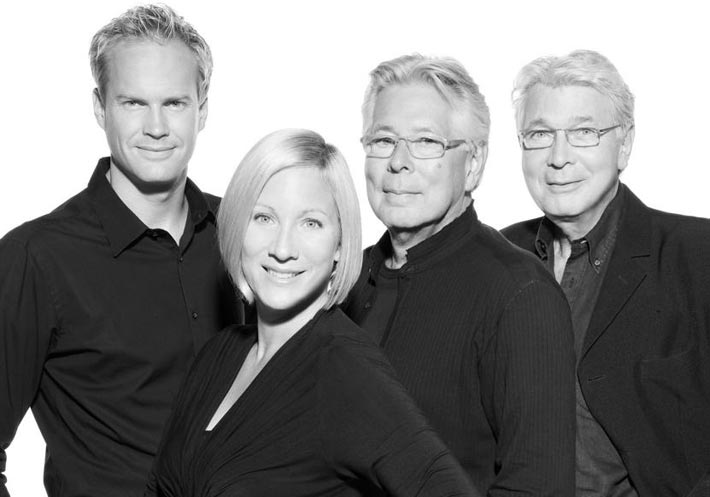 more beautyme>