7 February 2016

Preview of the new fragrance 'Ocean View' for Women by Karl Lagerfeld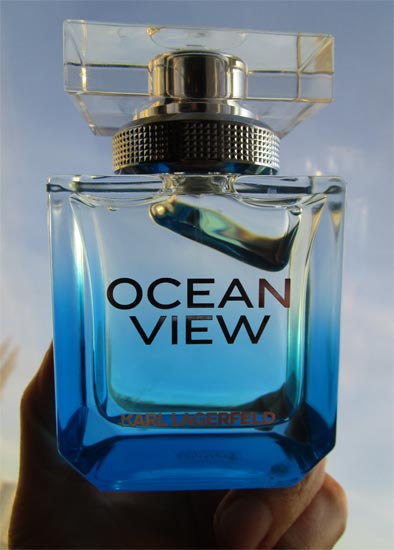 'Ocean View' for Women by Karl Lagerfeld will be available in limited edition from March. The fragrance is already listed on various perfume websites like fragrantica.com; but as the eau de parfum is brand new (and not released yet), users haven't posted their comments about the qualities of the scent online. Fashionoffice received the 'Ocean View' eau de parfum in watery turquoise blue flacon which evokes already at the first sight a holiday-like fresh breeze imagination of the sunlight flooded salty sea environment and reminds relaxing time when eyes travel from a sunny beach over the ocean towards infinity. So far, the flacon alone has the quality of an escape ticket to recreational moments and can be used as nice home accessories at the bathroom. The first olfactory impression of the women's fragrance is like the turquoise blue bottle design with silver (like the horizon) writing suggests - it's fresh and opens with fruity notes (litchi, pineapple, peach), the heart is floral (jasmine, rose, magnolia) and rests soft on the base notes (vanilla, musk, sandalwood). Over the day, 'Ocean View' for Women stays as decent soft scent which is not too sweet and not too dry. In a subtle way, it spreads (tested on the inner sides of the lowers arms) especially notes of vanilla, flowers and musk. Well, this can differ slightly from person to person. 'Ocean View' by Karl Lagerfeld isn't a dominant or obtrusive scent; it's uncomplicated and easy to wear the whole day through.
Perfumers of the scent are Serge Majoullier and Cécile Matton.
fig.: Snapshot of the new eau de parfum 'Ocean View' for Women by Karl Lagerfeld; available in limited edition from March 2016.

more beautyme>