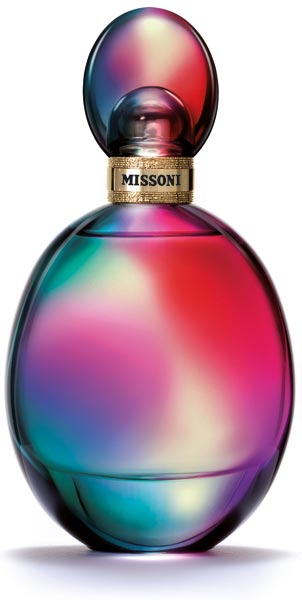 13 January 2016

Test of Missoni's new perfume: a warm, gentle and joyful scent
In Fragrantica's data base, it's the 14th perfume by the Italian fashion house which is especially known for its signature knitwear with colorful patterns (campaign video for SS16 women's and men's wear). The newest woman's perfume 'Missoni' is the first created in collaboration with Euroitalia. Recently, Fashionoffice received the perfume in its color-changing Murano glass inspired flacon. The haptic experience of the bottle is warm and gentle as the scent which is already bespoken on many websites. To prevent a replication of what's already written somewhere else find the olfactory pyramid on Fragrantica. After testing the eau de parfum, the scent can be described as comfortable companion which carries the energies of fruits and blossoming flowers on relaxing notes of sandalwood, tonka bean and the almost mystical scent of ambroxan. Missoni is joyful and vibrant like the changing colors of its nice bottle. It's a perfume without age restriction - or more precisely, it complies the trend of crossing generations; it's young (the Italian citrus notes) and at the same time it spreads the elegance of self-conscious style (floral rose-like, jasmine heart notes on a wooden, balsamic base).
Additionally to the quality of the perfume's composition, the production of the campaign under the artistic direction of Angelo Missoni is worth to be mentioned. The campaign video is directed by Oscar winner ('The Great Beauty', Best Foreign Language Film 2014) Paolo Sorrentino and shows a woman - played by model/actress Elisa Sednaoui in Missoni dress, at a house party. The campaign was shot nearby Rome.
The release of Missoni's eponymous eau de parfum has already started last year in late November; in March, the perfume will be available in Germany, Austria.