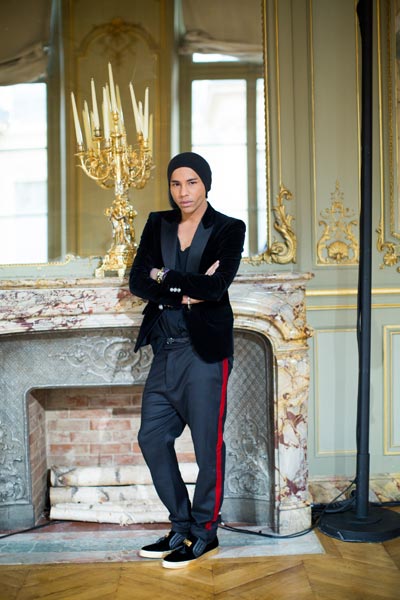 26 May 2015

Is Balmain's Olivier Rousteing currently the most popular designer?
When measured with fashion worn by top celebrities on red carpets and articles in fashion magazines during the last weeks the answer could be: YES.
David Guetta appeared in one of Olivier Rousteing's Balmain biker jackets on the red carpet at the Billboard Music Awards where the night's Top Artist Taylor Swift was dressed in a white Balmain jumpsuit by creative director Olivier Rousteing, some days later Sophie Marceau and Toni Garn were seen in Balmain at the Cannes Film Festival... The red carpet showbiz picture series are published via social media on Facebook.
But the eyes of media are focused on the star behind the collection as well. Some weeks before, Olivier Rousteing was interviewed by Showstudio; the video went live online on 25 April. The designer himself appears as celebrity and role model of the fashion of Balmain. Rousteing's style - a mix of streetwear and French couture, the combination of elegant high-fashion and pop-culture communicated via the channels of social media with the 'selfiecation' (more than 1 million followers on Instagram) of the co-producer of today's culture hits the fashion nerves.
fig.: Portrait of the creative director of Balmain Olivier Rousteing. The French Fashion House was founded by Pierre Balmain in 1945. Photo: (C) Kevin Tachman.
Perhaps the popularity of Balmain's Olivier Rousteing culminated on 18th May, one day after the Billboard Music Awards when fashion media around the word reported the sensation of the season: Balmain and H&M will release (worldwide in stores and online) a collaborative collection of clothing and accessories for women and men on 5 November. The collection was announced with Kendall Jenner and Jourdan Dunn in pieces from the upcoming collection during the night of the 17th May at the Billboard Music Awards in Las Vegas.
Recently, Fashionoffice received the information about the new woody-fresh-leather scented Eau de Toilette 'Balmain Homme' which will be available in perfumeries from June/July. The bottle is inspired by Balmain men's wear; especially elements of the Balmain military jacket are incorporated like left and right at the bottle the epaulettes and the closure is designed after the silver buttons with the symbol of the eagle which stands for strength and freedom.