31 July 2015

Fragrance trilogy inspired by Jason Wu's BOSS Womenswear collection FW15/16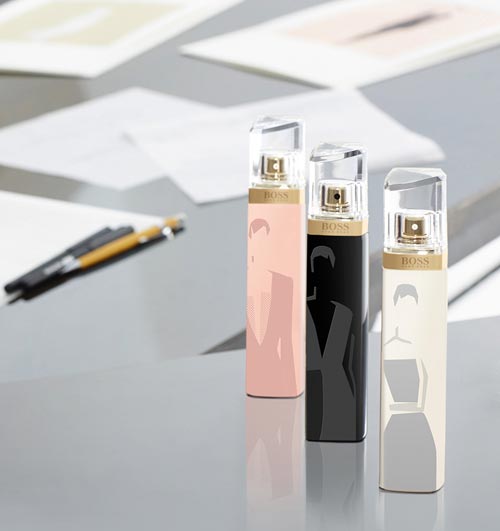 From August, the new three piece fragrance series 'BOSS Woman Runway Edition 2015' inspired by the BOSS Womenswear collection by New York-based designer Jason Wu will be available. Jason Wu is known for delivering fashion for First Lady Michelle Obama (first time that a US First Lady wore fashion by the same designer at two inaugurations, 2009 and 2013) and actresses like Julianne Moore or Diane Kruger.

Since 2013, Jason Wu is Artistic Director of Hugo Boss' BOSS Womenswear ready-to-wear and accessory lines.
The new fragrance series of three scents is inspired by the runway presentation (excerpts at the FB video below) of his BOSS collection FW2015/16 which is developed for occasions from the "boardroom to gala" such as it's described on eMag by Hugo Boss. The 'BOSS WOMAN Runway Edition' reflects with three different scents three looks (on the image above): the smoking (rosé flacon), the evening gown (black bottle in the middle), and a day dress (flacon with an ivory colored sketch). Last mentioned is filled with a light fresh citrus, white freesia flowers fragrance which matches the visual of an elegant, ivory colored silk dress. The scent carries the name 'BOSS JOUR Pour Femme'.
The name of the fragrance represented by a smoking is 'BOSS MA VIE Pour Femme' (cactus flower with refined floral rose note). And the glamorous evening gown inspired scent is depicted with a 'little black dress' (ingredients contain violet and jasmine).
The trilogy will be released as limited edition.

more beautyme>