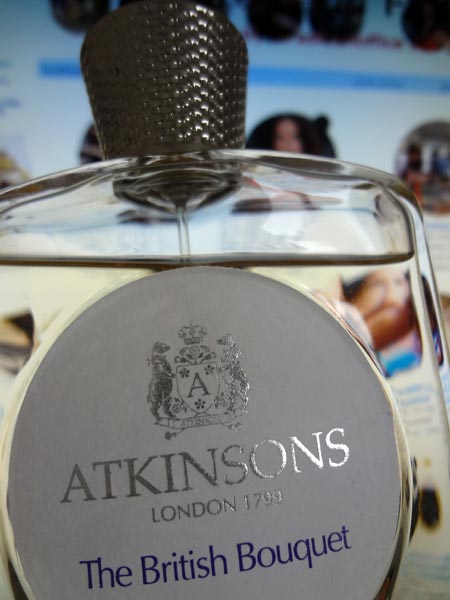 Fragrance Check
by Karin Sawetz, publisher Fashionoffice (27 January 2014)
How I apply 'The British Bouquet' fragrance
Many various how-to-apply-fragrance tips are circulating. There exists no 'absolute truth' about the best method. True is that for each scent the right places on the body have to be found - individually. In the world of perfumery exists only one consensus: the scent can bloom best on a freshly washed body.
I tested Atkinsons' 'The British Bouquet' which is an unisex eau de toilette for men and women and is inspired by British dandy Beau Brummel. For the first time, the scent was launched in 1800 in London. In 2013, the perfumery label Atkinsons re-launched four fragrances of 'The Legendary Collection' from the turn of the 18/19th century; one of them is 'The British Bouquet'.

During the last weeks, I applied the eau de toilette alternately on several fragrance points, mainly on thin skin where the blood veins run nearby: on my wrists, on the neck, on the elbow- and knee-bends, but also on hair-ends. Each of these points has another olfactory effect. On my hair for example, I experienced that the citrus components played with myrtle the main role and unfolded a wild, fresh but still warm scent. The plant myrtle refers to a long history which goes back to Aphrodite of the Greeks and the Romans' Venus and - as it stands for love, it is used until today for bridal bouquets. (Fragrantica publishes insights into myrtle from the perspectives botany, myth and ritual, medicine, etc.)

For 'The British Bouquet' fragrance I am not really convinced by the neck and wrist points. The 100ml bottle with spray is too big and uncontrollable for the usage on these parts of the body. For the eau de toilette, I prefer the knee- and elbow-bends just after the shower and before moisturizing the body: the happiness notes of bitter orange awake all senses and tune them into the right mood at morning. Later, the bouquet's citrus tones unveil lavender and myrtle which have a relaxing, warm effect. Atkinsons describes the scent as leather-velvet composition. This meets my experiences after the orange-citrus opening quite well.

Atkinsons states at its 'Ask A Snob'-series on Facebook that it is important to know the rules to break them; the label's tip for the olfactory equivalent: 'The British Bouquet'.