Fragrance Check by Karin Sawetz, publisher Fashionoffice (16 September 2014)

My new favorite perfume is inspired by North European mythology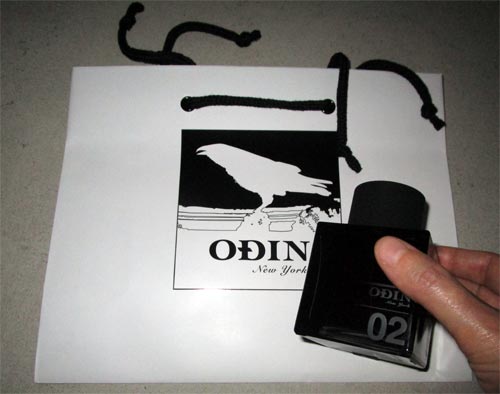 Recently, I received a perfume from New York to test it; the label is an insider-tip in Vienna while the multi-brand boutique 'Odin' in New York counts since several years to one of the must-go destinations (according to several online shopping guides such as on WWD, NYmag or racked.com) when it comes to style, men's style.
The women/men's perfume Odin '02 Owari' arrived together with the shopping bag. The print on the bag shows the logo of the label which consists of a crow, the brand's name 'Odin' and the location where it originates from: New York. The crow has an important role in this perfume story as it references the two crows Hugin and Munin which accompanied the old Norse god Odin on his travels. The label Odin was founded in 2004; the perfume line was started 2009 (02 Owari is from the initial year) and consists of ten scents which capture the olfactory impressions of a world traveler - such as Odin was with his two crows (Hugin means translated 'thoughts' and Munin 'memory') which were according to the North European mythology the additional eyes and ears of the wise shamanistic god.
Most people know Odin rather as warrior and father of Thor and wouldn't associate him with wisdom or suggest that he had a 'green vein' (shamanism). The green aspect of Odin and his extraordinary ability to percept the world and nature is now filled into the dark-amber colored square glass bottle.
I really was impressed by the citrus opening of 02 Owari. Owari stands for 'end' and references the other end of the world (which could be correct when seen from North Europe on a flat world, long before America was discovered). Owari is also the name of a province where the label gets the main ingredient mandarin for the perfume (scent pyramid). Later, 02 Owari changes its appeal from citrus-mandarin into a wam note, but without being sweet; it can't be said that it's more female or male - it's simply pure sympathique.
Odin fragrances are sold in stores like Barneys New York or Parfumerie Filz in Vienna (last mentioned was founded in 1809 and is the city's oldest perfumery).
fig.: Odin '02 Owari' is available as candle with green citrus scent too. The picture shows the candles with the brand's signature crow.