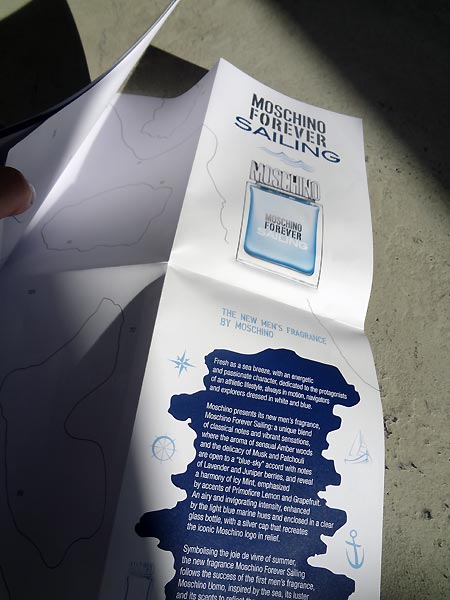 Fragrance check
by Karin Sawetz, publisher Fashionoffice
(17 March 2014)

Moschino's navigation map for the olfactory exploration of a sea breeze
The press material of Moschino's eau de toilette 'Forever Sailing' arrived already at the end of last year at Fashionoffice. But it was - as I have to decide what and when something is published on Fashionoffice's channels, not the right time for this very fresh and sporty scent which could be described as 'unsuspicious', light and perfect for spring, summer. The Italian fragrance has an 'anonymous' appeal and isn't filled with so much character like French scents are known for. This makes Moschino's 'Forever Sailing' very practical for daily usage and in a business environment. It's fresh without endangering the wearer to leave his marks in a room. Who wants to smell his or her business partner the whole day long? Some scents are sticking in an office longer than it's polite!
But the real reason why I am writing today about Moschino 'Forever Sailing' isn't the exploration of men's olfactory appearance (which should be like a sea breeze - it comes and goes), it's the press material itself which is made up like a sea map with numbers that remind latitudinal and longitude points alongside to lines which surround small islands. The island illustrations are used graphically for descriptions of the scent pyramid, the bottle, the packaging, etc. By opening the map, the bottle - inspired by glittering water, waves and the blue sky, catches at first the eyes. Above the images of the bottle and packaging, Moschino presents the ingredients - from mint, lemon over lavender to patchouli and musk.
Now during spring cleaning time at Fashionoffice, I have to cast away the map which brought such a nice sea breeze to Fashionoffice. (According to the press material, Moschino 'Forever Sailing' isn't a limited edition.)