Vienna Insight
by Karin Sawetz, publisher Fashionoffice
(12 February 2014)
Etro's new print
Today, I attended a press date at hotel Sofitel Vienna for the exploration of new perfumes such as 'Jacquard' by Etro.
The Italian label is known for its prints, especially paisley prints on clothes, fragrance bottles and packaging. In mid-March/April, the new scent 'Jacquard' will come into stores - this time not in paisley but in flower dress (and packed into paisley; as on view on the photo right). The name of the floral-wooden-warm (musk) eau de parfum pays homage to the label's weaving tradition; the hand-painted pink, red, orange flowers on yellow ground have a playful appeal. Hand-painted flowers for a perfume that carries the name jacquard sounds only at first like a contradiction. Jacquard is a weaving method for unlimited pattern varieties - such as hand-painted flowers. The design concept seems to follow an idea which is not limited to this bottle.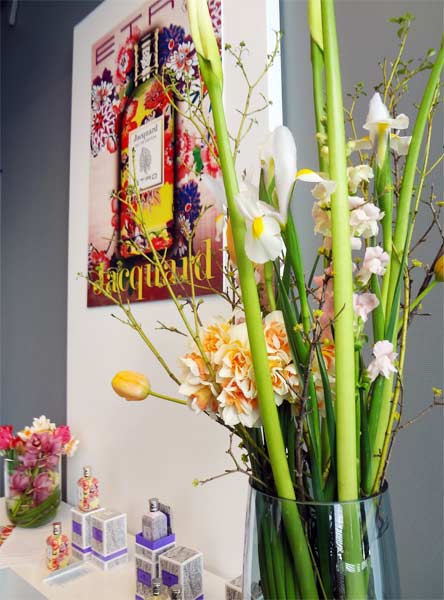 Not only the bottle of the perfume shows a new print in Etro's fragrance collection. In Etro's Spring/Summer 2014 women's wear collection, the main essence is a 'new' print - a mix of paisley in modern interpretation and exotic floral motifs. Veronica Etro, creative director of women's wear, says that the textile prints are derived from a "splintered, patch work pattern: it is the art of imperfection, as well as a balance of contrast and harmony of juxtaposed elements living side by side."
Video: Behind the scenes at Etro Woman Spring/Summer 2014 (held on 20 September 2013 in Milan). For makeup and hair, Etro mixed surfer style (healthy skin glow) and retro looks from vintage postcards from Asia.