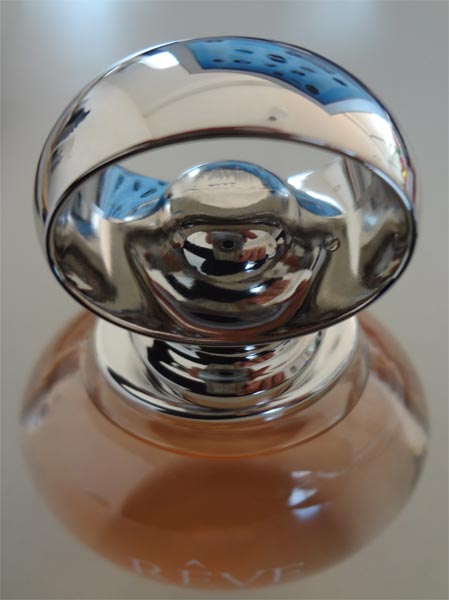 fig.: The photos show the perfume bottle of 'Rêve' by Van Cleef & Arpels (comes into stores in May 2013), seen from two perspectives. Perfumers of 'Rêve' are Emilie Coppermann, Nathalie Feisthauer, Evelyne Boulanger.
In 1976, the jewellery house launched the first perfume with the name 'First'. The principal form of the flacon (closure and bottle) was already born at that time. The silver closure is inspired by jewellery and symbolizes a pendant.
Find a picture of the 'First' perfume on the house's timeline which starts with the wedding photo of Estelle Arpels and Alfred Van Cleef (1895) and provides depicted jewellery short-stories like the one about the 'Picasso Clock' from 1969.

Perfume Pre-Taste by Karin Sawetz, publisher Fashionoffice
(9 April 2013)
Perfume inspired by Haute Joaillerie
At the first 'tasting', the coming (in May) perfume 'Rêve' (French for 'Dream') by the Parisian jewellery house Van Cleef & Arpels awakens impressions of a fruit basket. Initially, I thought that this basket is filled with peaches; but the opening of the multi-layered scent composition is created from pear and neroli. After the fruity welcome, 'Rêve' surrounds the body with a pampering, honey-like and very clean scent-cloud (osmanthus and lily). For some hours, the perfume provides a relaxed atmosphere which bases on sandalwood and amber.
Currently, 'Rêve' by Van Cleef & Arpels (launch in May 2013) is one of my favorite perfumes.