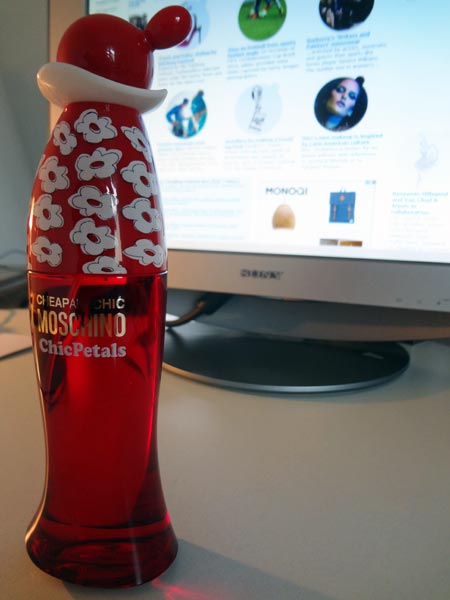 Fragrance Check by Karin Sawetz, publisher Fashionoffice
(24 June 2013)
Cartoon puppet filled with wild strawberry
After last week's tropical heat in Vienna, it rains today heavily in this part of Austria. The sky is grey and weather is autumn alike. Best time to watch cartoons - or place them in front of the computer while working. When the cartoon is styled in a red Moschino dress with white collar and chic petal print, and additionally filled with notes of wild strawberry, ginger, pomegranate (top note) - orchid, gardenia, water lily (heart) - musk, hinoki wood and iris (base), it becomes the perfect tool to make the day, visually and olfactorily. The equipped Moschino fragrance puppet fills the desktop with the impression of a fruity flower field!
fig.: Eau de Toilette 'Chic Petals' by Moschino from the 'Cheap And Chic' line, comes with body lotion and shower gel into stores in July 2013.
Moschino's signature flacon from the Cheap And Chic line shows the silhouette of Olive Oyl. The cartoon figure is known from comic strips, 'Popeye The Sailor' TV-series (watch 'Sea No Evil' from the 1960s) and animated films (Sony Pictures Animation will release the new 3D film 'Popeye' in 2015).
Olive Oyl (the name is derived from 'olive oil' which is used in salads) was born in 1919 and represents a self-determined woman - similar to the flapper girls of the 1920ies. She appears romantic but with both feet on the ground, narcissistic and at the same time open for all wonders of the world.
The fragrance fits to Olive! 'Chic Petals' is a happy, easygoing scent.