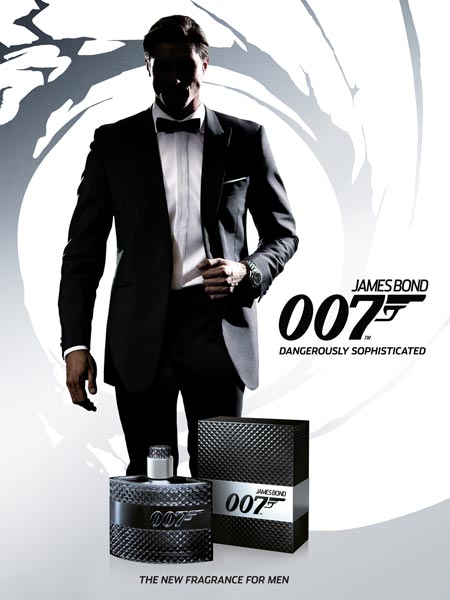 fig.: Campaign for the fragrance 'James Bond 007', shot by Greg Williams who was the official photographer on the sets at the last five Bond movies, inclusively the new James Bond film 'Skyfall' (release in October, November 2012).

The spirit of James Bond in a bottle
In 2012, the 50 years anniversary of the fictional movie character 'James Bond' will be celebrated with events around the world on 'Global James Bond Day' (5 October) and after 50 years for the first time, James Bond appears as 'spirit in a bottle' (the 'James Bond 007' fragrance comes into stores in September).
The fragrance 'James Bond 007' pays homage to the beginnings of the spy series in the 60ies. The perfumers composed 'James Bond' from ingredients from the fresh sparkling Fougère-scent family (lavender, moss, coumarin) which was developed for masculine fragrances at the same time when the secret agent (portrayed by Sean Connery) made his debut on theatre screens. The fresh sparkling 'James Bond 007' ingredients are mixed with scents like green apple and sandal wood which represent James Bond's 'sensual' side.
The visual appearance (the ad, the bottle) reflects James Bond's elegant Brit-Chic fashion and science aspects of high-tech - in the movies used for cars, communication devices and other gadgets. The dark-blue glass-flacon is inspired by these 'Bond-tools'. The gun - on the art work (image above) a visible part of the logo and as signature graphical gun cylinder behind the photo, is also part of the movie's music which is known as the 'James Bond Theme' - a composition with fanfare and the sound of gun shots. The music theme is incorporated into the James Bond movie songs by prominent contributors like the intro of 'Die Another Day' (2002) was delivered by Madonna or Alicia Keys & Jack White's 'Another Way To Die' for 'Quantum of Solace' (2008). No wonder that one of the announced events of the Global James Bond Day on 5th October is dedicated to the 'Music of Bond'; the event will be hosted by the Academy of Motion Picture Arts and Sciences in Los Angeles.
Video: Trailer for 'Skyfall' with Daniel Craig in the role of James Bond, costume designer is Jany Temime (known for her work for Harry Potter).