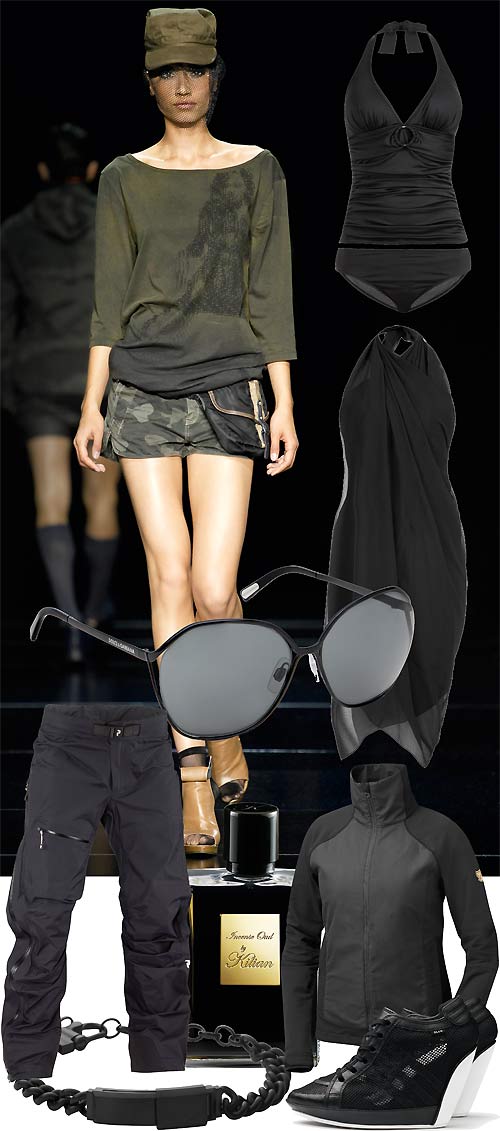 WOMEN STYLE
spring/summer 2011
fall/winter 2011/12
fashion by G-Star, Palmers, Peak Performance, Fjällräven
sunglasses by Dolce & Gabbana
jewellery by Diesel
shoes by adidas SLVR
beauty by Kilian
World Affairs

In early February 2011, European online weather forecasts predict that the cold days of winter will come to an end. At the weekend of 5th and 6th February the temperatures will climb up! A good reason to collect some pieces for beach-walks, adventurous city-tours, and surprising nights.
Some of the items on this page are inspired by the Arabian world, which receives in these days worldwide attention.
fig.:
T-dress with 3/4 sleeves in military green, chino hotpant showing a block artwork print, envelope nylon bag by G-Star, SS2011. G-Star fuses on this outfit the hardcore army physical training instructors' style with classical American sportswear. Photo: (C) Peter Stigter.
Tankini 'Ocean' and transparent pareo in black by Palmers, SS2011.
Sunglasses 'DG 2091' in black by Dolce & Gabbana, SS2011.
'Pure' pant from the 'Black Casual' line by Peak Performance, SS2011. The designers of Peak Performance are inspired for the pieces of the 'Black Casual' line by 'Lawrence of Arabia' and adapted the style for contemporary explorers by using high quality Italian and Japanese fabrics as well as high-tech materials and Gore-Tex.
Perfume 'Incense Oud' for women and men from the 'Arabian Nights Collection' by Kilian, comes into stores at the end of March/early April 2011.
This is the third perfume after 'Rose Oud' and 'Pure Oud' of the 'Arabian Nights Collection', which contains in sum five creations made of the Arabian ingredient 'Oud'. The aromatic resin from a tree is used in the last years especially for exclusive and often unisex perfumes.
'Skare' black jacket made of elastic softshell in Scandinavian functional sportive style by Fjällräven, FW2011/12. Photo: (C) guab.
Chain-bracelet in black by Diesel, SS2011. The Diesel designers had been inspired by the idea to create outfits for an imaginary spy-movie saga with the title 'Licence to Create'. "After evoking espionage bikers, Diesel now follows up with a tale of supersonic spies who duel in jets before plunging underwater for a scuba battle. And when they finally relax with cocktails in Miami, action is only a heartbeat away." Probably that's the reason why the bracelet looks as if it is the save carrier for a secret data chip...
'Clima' wedge by adidas SLVR, SS2011; comes in March into stores.


more beautyme>>>