VIENNA INSIGHT
by publisher Karin Sawetz
July 2011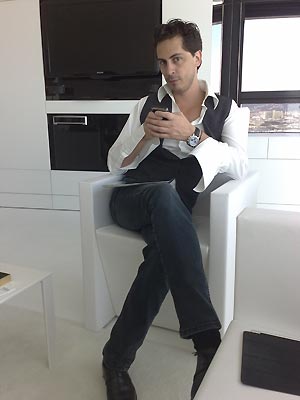 Haute Perfumery in Vienna

Today (12 July 2011), Paris based Haute Perfumery label 'Kilian' has invited to the hotel 'Sofitel' in Vienna on occasion of the launch of the new scent 'Sweet Redemption'. Kilian Hennessy, founder, creative head and nose of the label, introduced Viennese journalists to the 10th and last chapter of the 'L'Oeuvre Noire' and announced the release of a new collection for next year in September.
The scents of perfumes by Kilian evoke images in the head that have the color deepness of classical paintings like Caravaggio's and tell stories that are structured correspondingly to today's digital media society's thinking which is developed from daily new connections and links.
Kilian Hennessy loves to compose the perfumes with various different natural ingredients; many of them are culturally connotated like the Arabic oud or the sacral scent incense.
At this time, Kilian is working on a new collection. Each of his scents is developed out of a story. The 'L'Oeuvre Noire' perfumes are created from stories about love, heaven, liaisons dangereuses, cruel intentions... When I asked Kilian if he tells us something about the new collection (launch September 2012) and its stories, he said: "No. Only that it will be more dangerous."

fig. above: 'Please look at my camera.' Kilian Hennessy, grandson of the founder of the LVMH group and trained with the greatest noses in perfumery, has the office with him on his seat; the phone in the hand and the computer on his leg. Very elegant - he has shown the designs of the art-deco inspired Kilian clutches on an iPad which made the round. The idea for the plexiglass 'Evening Bags' are derived from the black lacquer-wooden perfume boxes which contain the fragrances by Kilian. The clutches are available in different designs - one with silver or gold straps that are inspired by the nail marks of a woman, or the 'Don't be shy' clutch with Swarovski details: "This evening bag sends a message of the woman who is not afraid of extreme sophistication." bykilian.com/en/sacs_du_soir/dontbeshy/
fig. below: The three scents from the 'Arabic Nights'-collection.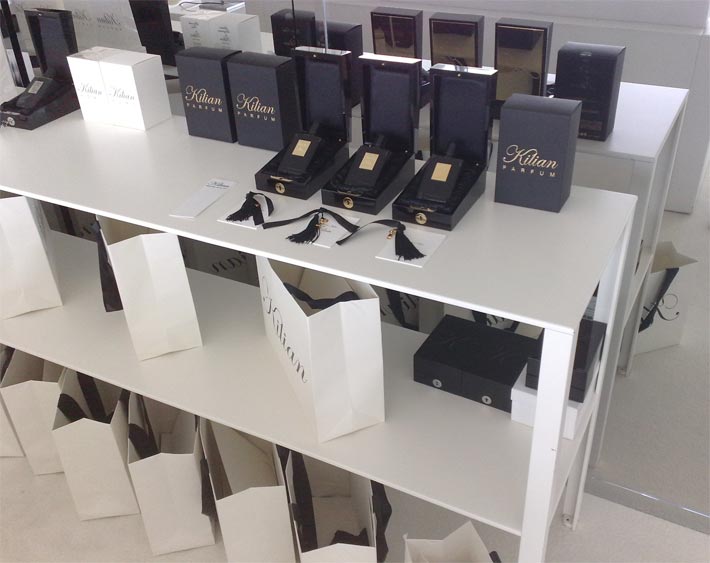 more beautyme>>>