Video: Madrid based photojournalist Sylvain Cherkaoui presents impressions from the Cibeles Madrid Fashion 2010 with the movie 'One day in Cibeles Madrid Fashion Week' on YouTube. Music: 'Samson' by Regina Spektor.
More than 50 designers have presented the new fall/winter 2010/11 collections on 6 days from 18 to 23 February 2010 at the Cibeles Madrid Fashion. For the first time, fashion bloggers were invited to the 'Asus BloggerSpace' to report their points of view on the participating designers to their community of virtual followers. Cibeles has structured the fashion week into 43 fashion shows to give an insight into the creativity of Spanish fashion designers.
Sylvain Cherkaoui learned to take images with the camera while he studied Marine Biology in Marseille. After his degree he attended trainings in photography and multimedia in Paris. Today, he works for national newspapers and several publishing companies.

Sylvain Cherkaoui is one of 17 photographers from the collective 'Cronotopo' (means in Old Greek 'time' and 'place'). The website shows various journalistic photo stories from 'Fashion' over 'Migration' to 'Aids'. In April 2010, the collective writes on the website: "...our commitment with photojournalism, seeking to stimulate a utopian gesture in our profession." cronotopo.com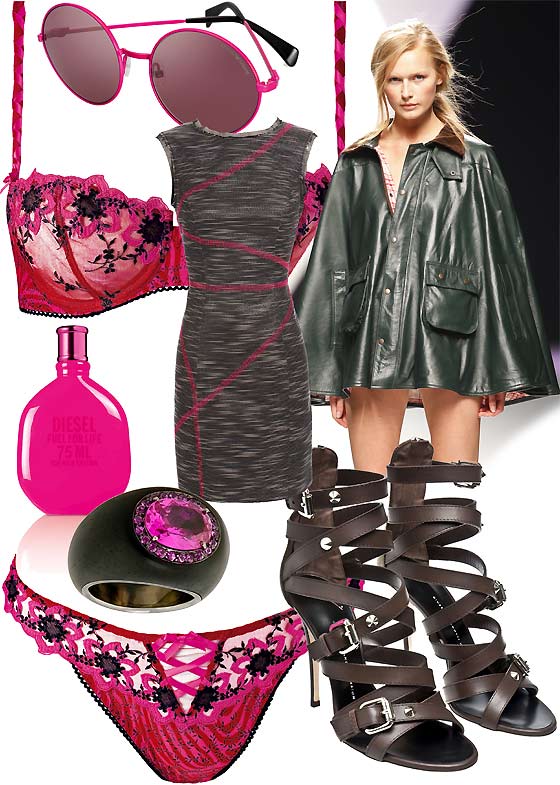 SUMMER RAIN
spring/summer 2010
fall/winter 2010/11
fashion by American Perez, Jason Wu at Browns, Giuseppe Zanotti for Balmain at Browns, Aubade, N.oor, Emporio Armani
beauty by Diesel
Time and Place
Time and place inspire designers for new collections such as the Barcelona based 'American Perez' duo that is working on the rural United States clothing style. The result is a mysterious Twin Peaks-Laura Palmer outfit in 50s style.
Or the Lebanese designer Noor Fares who is inspired by her Middle Eastern heritage. She transfers this cultural knowledge into contemporary jewellery with an earthy appeal that touches with the shine of its diamonds the ceiling.
Journalists on the other hand, chronicle what happens on these places at certain times; such as the Madrid based collective 'Cronotopo'. Sylvian Cherkaoui is one of them. His animated story of images leads you to the Cibeles Madrid Fashion Week.

fig.: beginning with the woman in the...
Cape from the FW2010/11 collection 'A Woody Place' by American Perez (founded in 2008, Barcelona) at the Cibeles Madrid Fashion Week, 18 February 2010.
The 'American Perez' designers Natalia Pérez and Jorge Bolado Moo are inspired by America, especially the clothing style of the United States. The current SS2010 collection is entitled 'Miami Heat' and shows the city's Art Deco architecture transferred to clothes.
For FW2010/11, the designers have created a mysterious view on the rural world of US, inspired by David Lynch's 'Twin Peaks' and the main role 'Laura Palmer'.
On their blog, the designers name romanticism, travelling, and multiculturality as the important trends in 2010.
Dress with X-ray stripes by Jason Wu; seen at brownsfashion.com, SS2010.
Sandals by Giuseppe Zanotti for Balmain; seen at brownsfashion.com, SS2010.
Fragrance 'Fuel for Life Femme Summer' by Diesel 2010. Photo: (C) Diesel.
Sunglasses EA 9633s in pink 80s style by Emporio Armani, SS2010.
Ring from the 'Touche de Bois' collection by N.oor, SS2010. Lebanese designer Noor Fares has combined for the collection black ebony with diamonds, sapphires, silver, gold... The jewellery-sculptures have an earthy appeal which seems to touch with the shine of the stones the ceiling. N.oor jewellery is available at Harrods in London. In December 2009, Noor Fares was cited in the Fashionoffice-article 'Jewellery design inspired by Middle Eastern heritage': "Many of my ideas and inspiration come from my Middle Eastern background, but also from my travels, my studies, and the little things I love..."
'Safari érotique' bra and tanga by Aubade; SS2010.


more beautyme>>>