GUERLAIN HOMME 2008
The Quintessence of Animal Instinct
In August 2008 Guerlain presented the new fresh and energizing citrus-woody Guerlain Homme fragrance, created by Thierry Wasser and Sylvaine Delacourte, in a bottle designed by Pininfarina with an advertising campaign under the motto "for the animal in you".
The Advertising
Video: A new approach to the conventional genre of men's fragrance advertising! Artist, advertiser, graphic designer and director Jean-Paul Goud loves comics, American B-movies from the fifties and tenderly ironic poetry. In his impertinent and iconoclastic campaign for Guerlain Homme he has created a scenario full of humour.
The story: the animals from the jungle ...

The man you can see is the impeccably built 27-year-old Brazilian top model Renne Castrucci with piercing green eyes and an disarming smile. This is one of the moments you want to be "Jane"...
Guerlain's concepts for men 1904 - 2004
Guerlain creates fragrances for men for nearly two hundred years.
>Some of them are made for dandies: Mouchoir de Monsieur (1904), Habit Rouge (1965), Héritage (1992) – with the understanding that an elegant gentleman is also an accomplished athlete and sociable man of letters.

>Others, such as Vetiver (1959), were created with the more adventurous in mind, those with a passion for travel and simplicity.

>And, there are scents which clearly appeal to sensuality and the world of the emotions, L'Instant de Guerlain pour Homme (2004) being the most recent example.
The concept of Guerlain Homme in 2008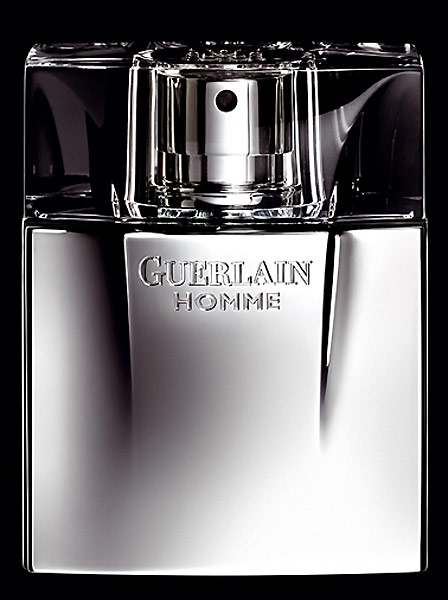 Guerlain thought: "What about the man who fits into all three categories, yet remains entirely unique… what scent should he wear?"
"We can picture him as someone with a strong sense of instinct, independence, ease and determination, an undeniable aura of masculinity. Animality, even, since it is part of his very nature. But rest assured, this man is far removed from a hairy, lantern-jawed beast. He doesn't go in for bulging biceps or a freewheeling swagger. Rather he exudes a flexible confidence, equally at ease in a tuxedo or trainers. Recognisable by his razor-sharp reflexes, smooth moves, and manner of action – primarily relying on his natural flair – he is immediately able to grasp what others take a few minutes, or even hours, to comprehend. Speaking of flair…"
The bottle - Pininfarina's first design for a bottle of scent
The glass bottle is swathed in a striking metallic sheath which reminds you of exquisitely designed cars. Unsurprisingly, as this unique work of art was developed and fine-tuned by Guerlain in collaboration with the Pininfarina automobile design studio. Pininfarina is a legend among men's luxury brands. Italian racing car enthusiasts marvel at its futuristic metal fuselages.







Video: Making of the video for Guerlain Homme, July 2008.