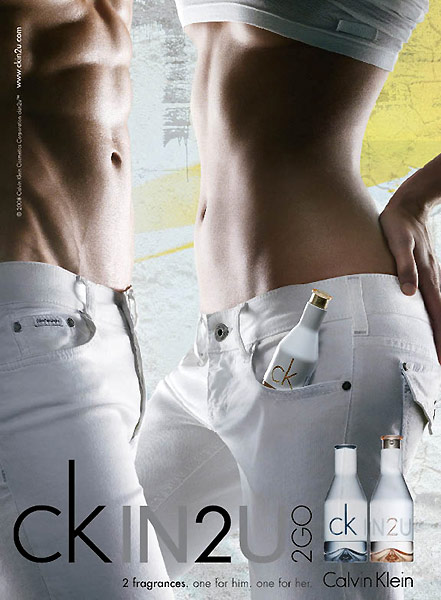 ck IN2U 2GO
spring/summer 2008

ck IN2U 2GO, the second (limited) edition of Calvin Klein's first non-unisex fragrance, comes in travel-size: the easy "to go" everywhere 20 ml mini bottle contains:
for her a fresh floriental scent of pink grapefruit fizz and a surge of mouth watering sugar orchid,
for him a fresh woody oriental impression of lime gin fizz which rushes into a combination of cool musks.
The Premiere
On 1st April 2007 ck IN2U fragrance by Calvin Klein premiered as the first non-unisex ck Calvin Klein fragrance, with separate scents for him and her. The design of the bottle and the scent express the spirit of the digital age.
The Technosexual™ Generation
"ck IN2U speaks the language of a generation connected by technology – the aptly named technosexual™, a term for which we have a pending trademark," says Lori Singer, Vice President, Global Marketing, Calvin Klein Fragrances. "The Millennials are the first generation to be defined more by their means of communication rather than fashion or music. Constantly at play on their cell phones or the web, they communicate with a shortened language that allows for a quicker, more effortless way to stay connected. That is why we named the brand in text."
The ck IN2U website www.whatareyouin2.com
In 2007 it was the first time that Calvin Klein Fragrances has utilized a dedicated website and social networking as part of the consumer experience. The website was not only intended as a social-networking site – to connect people from around the world with others who are "IN2" the same things – but also a film community where people are encouraged to post short films based on the question "What are you in 2?"
The story between a girl and a boy
The ck IN2U advertising campaign was created on the idea about a girl and boy who are obviously "into" each other, captured in a moment of intense spontaneous connection. The print ad represents the busy lifestyle that today's technosexual™ generation leads.