10 July 2016

Authentic Parisian street style captured as make-up collection by Sonia Rykiel x Lancôme
Until mid-August, Austrian customers have to wait to get pieces from the new 'Sonia Rykiel x Lancôme' make-up collection for Fall/Winter 2016 (limited edition). Fashionoffice announced already in March the collaboration between the two French icons (article with background information about the impact of Sonia Rykiel on fashion).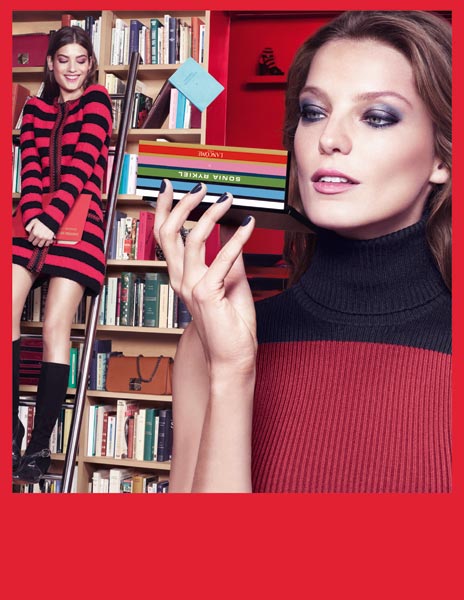 Now, campaign images and photos of the product palette of lip, eye, cheek and nail colors which are packed partly into illustrations by the Parisian streets inspired artist Monsieur André (picture below) were sent.
Monsieur Andrè visualized Sonia Rykiel Creative Director Julie de Libran's perception of Parisian lifestyle for the Saint-Germain-des-Prés make-up products with symbols like books (stand for the tradition of literature, philosophy of the Rive Gauche, Saint Germain region), coffee cups (referencing prominent cafes like Le Flore or the Le Rouquet, located nearby maison Rykiel) or pencils (perhaps for writing notes for the next book?).
fig.: The illustrations' themes are mirrored in the campaign photographed by Mert Alas and Marcus Piggott with the models Alma Jodorowsky and Daria Werbowy. The image on this page shows Daria Werbowy with one of the two eye colors palettes, the 'Parisian Spirit' which is packed into the typical Sonia Rykiel stripes in vintage 60ies colors - Sonia Rykiel's stripes symbolize women's emancipation, optimism, passion; below a picture of the 'Saint-Germain' eye color palette with illustrations by Monsieur André. Alma Jodorowsky is on view on a ladder which stands at a bookshelf at Sonia Rykiel's flagship store. This campaign image is one of a series which provide insights into the lifestyle of Parisian women.
The colors and textures were composed together with Lisa Eldridge, make-up Creative Director Lancôme. Eldridge developed two looks made with the products (eyes, lips, cheeks, nails) of the collection: one is named 'Parisian Spirits' with fresh and decent notes (eye colors range from rosé to plum); the other is 'Saint-Germain' (eye colors like night blue, grey, khaki).