5 April 2015

Architect Shigeru Ban shares sketch of the Shiseido pavilion during Venice Biennale
This year, Venice Biennale focuses on the theme 'All the World's Futures' with art works delivered by countries from all over the world such as the one of Greece which is about power structures; Maria Papadimitriou will install a shop at the Greek pavilion. Alongside to the Biennale's official country pavilions, the time of Venice Biennale is also used by labels from the beauty and fashion world to throw an artful light - without any political or socially driven intentions.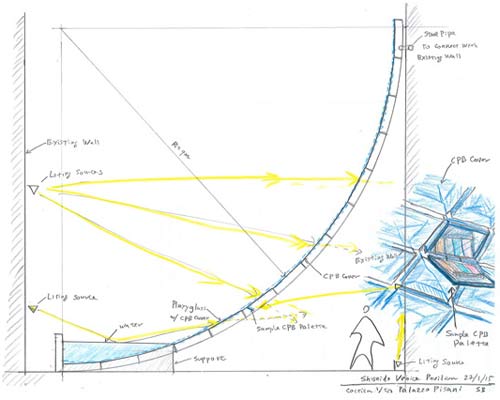 Award-winning architect Shigeru Ban was inspired by the 'Lights of Venice' theme of Shiseido's 'clé de peau Beauté' Fall/Winter 2015 collection for the satellite receiver-like installation 'Reverberation - Pavilion of Light and Sound' consisting of 90,000 makeup cases at the Palazzo Pisani Conservatorio di Musica Benedetto Marcello. The cases appear like tiles and are hold together by the tension of the form. The exhibition with music performances is on view on 8 and 9 May 2015.
Shigeru Ban about his inspiration: "... When I stood in the courtyard of the Palazzo Pisani Conservatory, I heard sounds from out of nowhere. These sounds were not music per se, but rather a component of the unique environment of this space. This is a space filled with mysterious light and shadows, and harmonious sounds. This is not makeup applied to a historical facade, but rather a method for drawing out the charm of the existing context."
fig.: 'Reverberation - Pavilion of Light and Sound' sketch by architect Shigeru Ban for Shiseido 'clé de peau Beauté' during Venice Biennale 2015; exhibition on 8 and 9 May 2015 at Palazzo Pisani Conservatory.
(C) Shigeru Ban.


more beautyme>