Love poem for water by YSL
At the end of March, Yves Saint Laurent sent the information about the new eye shadow palette for Spring/Summer 2014 with love poem-like words for the blues of the ocean, the beach and the dance of sun rays on water.
Lloyd Simmonds, Creative Director Make-up Yves Saint Laurent Beauté, references with this color-mix the aquatic blues he saw at fountains in Paris and the deep azure blues of the sky and the ocean, and combines them for the eye shadow palette with the colors of the environment such as beige of a sand beach (box outside) and the reds of corals (box inside). The palette of blue lights - 'Bleus Lumières', is packed together with pink and rosé into a box which pays homage to the geometrical 1960s 'Mondrian'-dresses by the founder of the label Yves Saint Laurent. (The dresses are on view at the trailer of the new documentary about the designer and the label YSL; video below.)
fig.: Eye shadow 'Couture Palette Collector Bleus Lumière' by Yves Saint Laurent, SS2014. The palette will come into stores (in Austria) at the end of April 2014.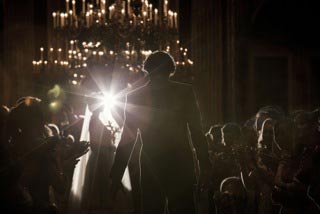 Photo provided by Universumfilm on occasion of the media campaign for the movie 'Yves Saint Laurent'.

Video: Trailer for the biographical movie about the career and life of Yves Saint Laurent, how he started his own label, the challenges of the fashion business and the gender-related achievements (keywords: tuxedos for women, nudeness of men) he made. The promotional video by the film company gives a first hint that the movie throws light even on the shady sides of the glamorous fashion world.
Director of 'Yves Saint Laurent' is Jalil Lespert; in the main roles Pierre Niney, Guillaume Gallienne, Charlotte Le Bon, Laura Smet, Marie de Villepin and Nikolai Kinski. The release already started in the French speaking countries France and Belgium. As it is not a big Hollywood blockbuster, the release dates differ strongly country-wise; the European countries come first: Sweden since 14 March, Austria is announced for mid-April, and very uncommon for movies in general - the last country on the release date list on IMDB are the United States with 25 June 2014.




more beautyme>