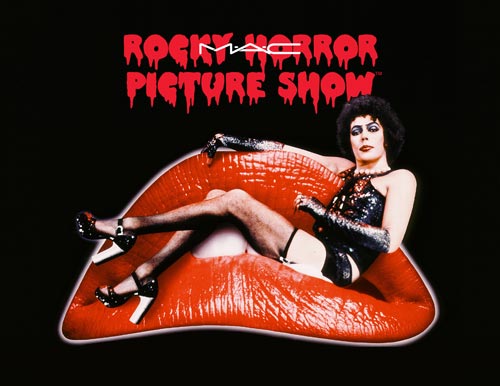 What's the most stylish horror show in music film history?
Yes! It's the legendary 'Rocky Horror Picture Show' (released 1975) with Tim Curry in the sexy main role as 'Sweet Transvestite' scientist Dr. Frank-N-Furter (on view on the picture right).
Now, MAC Cosmetics announces that the 'Rocky Horror Picture Show' collection of lipsticks (probably the most fascinating part of Tim Curry's styling when he sings 'Sweet Transvestite'), rouge, eye shadows... will arrive in shops and online on 1st October 2014 (in Austria, limited edition).

MAC Cosmetic's James Gager (Senior Vice President and Creative Director) says about the inspiration of the MAC Rocky Horror Picture Show collection: "The Rocky Horror Picture Show is a cult classic about transformation, diversity, individuality and fantasy; all elements that are a part of M·A·C's DNA. The collection was inspired by the strong makeup looks of the film characters. It will be out just in time for Halloween, one of M·A·C's favourite holidays."