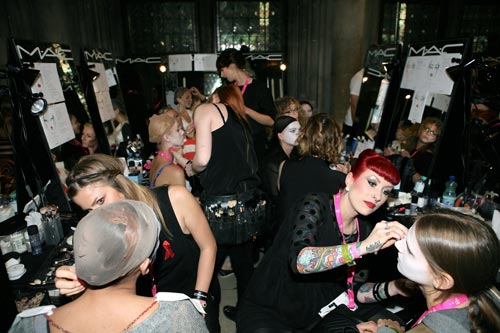 MAC Cosmetics' backstage views at Life Ball
In early June 2014, MAC Cosmetics provided some pictures from backstage at Life Ball in Vienna where more than 20 artists styled the faces (seven different MAC make up looks) of around 160 dancers and models at the catwalk shows. The image below shows face charts for the shows of Vivienne Westwood and Jean-Paul Gaultier.
Additionally to the stage collaboration, the MAC Aids Fund donated 130.000.- Euros on that day to the Clinton Health Access Initiative (CHAI) especially for the prevention of HIV mother-child transmission. These 130.000.- Euros were exclusively collected (in Austria and Switzerland) through the sale of lipsticks! MAC Cosmetics reports that since 2007, the label has donated already 3 million Euros to CHAI for the support of medical strategies. Since the start of the MAC Aids Fund in 1994, 300 million Dollars were collected for Aids initiatives.
Photos by Michael Dürr for MAC Cosmetics.