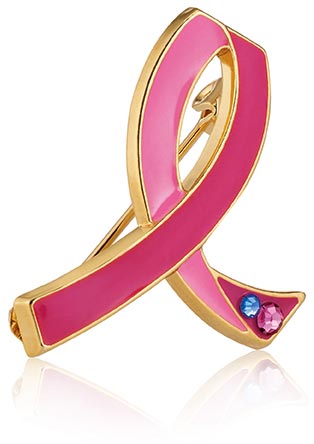 Estée Lauder's Breast Cancer Awareness Campaign 2014 is about knowledge and communication
Estée Lauder's aim to raise breast cancer knowledge and make people speak about the disease is promoted online on bcacampaign.com where users can post their stories about breast cancer. The website opens with a video which shows people speaking about their experiences with breast cancer and how family members were affected. (Fast checked on 16 September 2014).
Each year in October, cosmetics label Estée Lauder collects money for raising breast cancer awareness and for the support of medical research. In 1992, the charity campaign was initiated by Evelyn H. Lauder who created the pink ribbon symbol.

The pink ribbon pin on this page is alongside to lipsticks, powders, creams and fragrances on this year's list of products which will help defeating the cancer. It carries the name 'Evelyn Lauder Dream Pin' and will be available in Austria from 25 September. The blue stone on the pink ribbon stands for the 1% men who are diagnosed with breast cancer. The charity runs in collaboration with the beauty products store chains Douglas and Marionnaud and selected perfumeries; the collected money will be donated to Österreichische Krebshilfe (Austrian Cancer Aid).

Through the years, the campaign has raised more than $53 million US-Dollar. In 2014, the charity runs in more than 70 countries and signature landmarks worldwide will be illuminated in pink light; in Austria, on 1st October the Lentos Museum in Linz (image below) and on 17 October Schloss Esterhazy in Eisenstadt.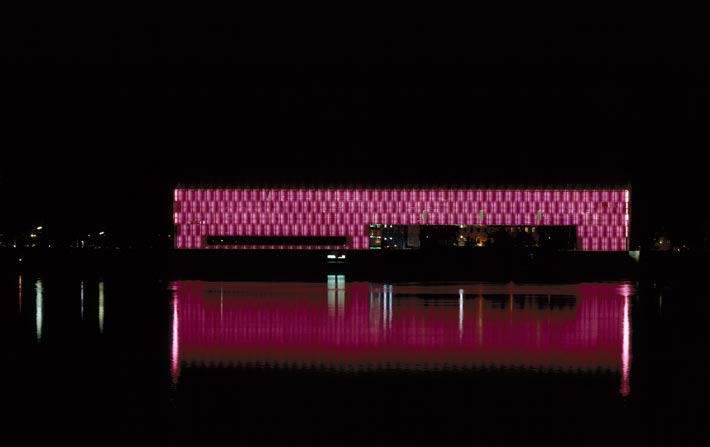 more beautyme>