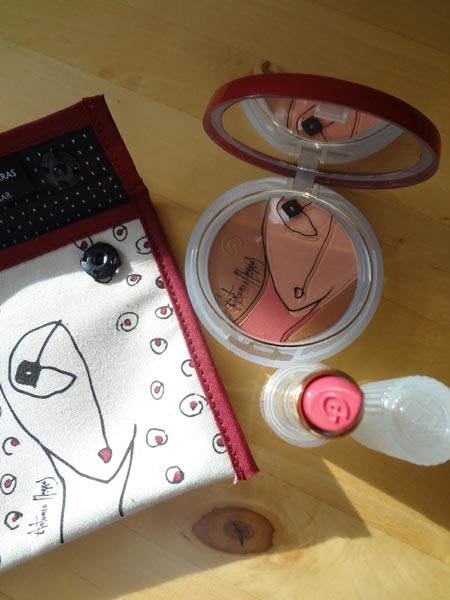 Beauty Sight
by Karin Sawetz, publisher Fashionoffice
(15 January 2014)
A bronzer for cosmetic refuseniks and art-design addicts
I tested the 'Natural Glow Blush Bronzer' from the new 'Ti Amo Italia by Antonio Marras' makeup line. First, I have to confess that I am not a fan of too much makeup on a face. I prefer the more natural looks which are achieved with few means and in short time. I received the information about the new 'Ti Amo Italia' Spring/Summer 2014 collection by Collistar in collaboration with Sardinian designer Antonio Marras already last year and was in the beginning more interested in Antonio Marras SS2014 women's wear which was inspired by Ovid's 'Metamorphoses'. The Italian designer presented the collection in a scenery with classical music and nature setting which reminds Shakespeare's midsummer night's dream play. Style.com reviewed the presentation of Antonio Marras who is characterized by the Condé Nast publication as one who "will never play the fashion game". Style cites Marras' statement about the Metamorphoses SS2014 collection: "I want to speak about bodies changed into new forms."
Now, Collistar sent a blush bronzer and lipstick from the collaborative Antonio Marras collection for testing - which I did. The compact powder applies a natural glow onto the skin. I tried first to use it like a blush on the cheeks only - this impressed me not too much. And then I put on few of the powder with a brush as bronzer over the whole face. I think it's the combination - first as blush and then few of the powder over the whole face. The skin looked sun-kissed but still natural - very nice! The texture of the powder feels comfortable on the skin.
The sun protection of the winsome smelling lipstick with the name 'Mille Baci' (Thousand Kisses) is a benefit. The color rosa cortina fits well to the natural, sun-kissed face style.
fig.: Pochette, 'Natural Glow Blush Bronzer' and lipstick 'Mille Baci' in the color rosa cortina (SPF 15) from the 'Ti Amo Italia by Antonio Marras' makeup line Spring/Summer 2014 by Collistar. The limited edition of eight products (bronzer, eyeshadow, gloss, etc) will come in February 2014 into shops (Karstadt and douglas.de) in Germany and Austria.