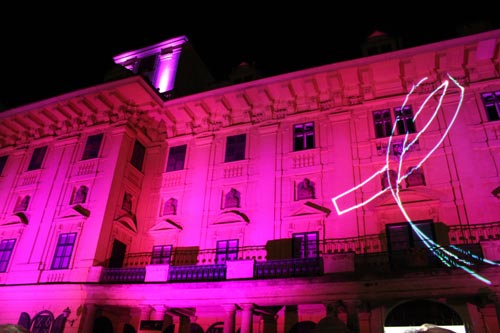 fig.: The image shows the Austrian Castle Esterhazy in Eisenstadt illuminated in pink on occasion of the Estée Lauder Breast Cancer Awareness Campaign in October 2010. This year, the Estée Lauder charity event will be held at the castle on 4 October 2013.

Estée Lauder's pink illumination tour in October 2013
In August 2013, Estée Lauder announced this year's October activities on occasion of the label's Pink Ribbon campaign. Since 1992, Estée Lauder organizes breast cancer charities and awareness campaigns in 70 countries all over the world. Alongside to the collection of money through Estée Lauder products from brands like Bobby Brown, Clinique or LaMer (parts of the purchase will be donated in Austria directly to the Österreichische Krebshilfe), the beauty company illuminates buildings (worldwide around 200 landmarks) in the signature Pink Ribbon color from the end of September through October.
In Austria, the illumination tour will stop at the Vienna Giant Ferris Wheel on 25 September 2013, Schloss Esterhazy in Eisenstadt will light in the color of hope and host Estée Lauder's breast cancer charity evening on 4 October, and between 30 September and 4 October 2013, Lentos Museum in Linz and the Austrian Parliament will shine in pink.


more beautyme>