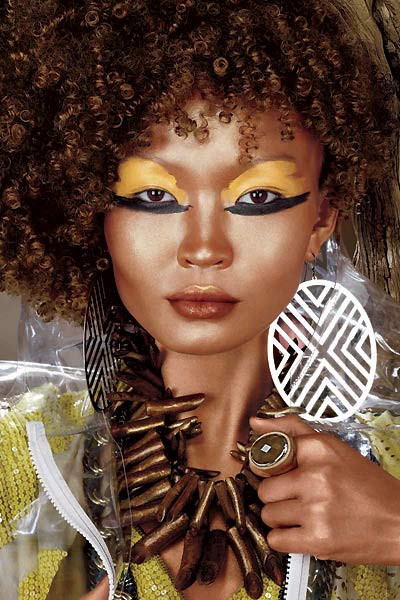 MAC Cosmetics
spring/summer 2009


Style Amazons are celebrating intercultural artfulness
Mac Cosmetics presents with the spring/summer 2009 collection 'Style Warrior' the intercultural artfulness of the new style warriors.
The new collection is described as "new glamour armour of heroic hues and courageous contrasts".
The packaging of the pieces shows animal prints to inspire the wearer to liberate her own animal spirit of woman and to be courageous enough to do wild things.
The coloring of the collection follows the idea of "cross-cultural colour" for the Princess of the Amazonas, African Queen or the haunting Tiger Woman.
fig.: The look 'Style Warrior'.
On the website you can find different, heroic looks such as Gold Rebel, Fierce & Fabolous, Tribalist, Liberated, Night Manouvres etc which express the courageous and wild style of the colorful creations made of lipsticks, eye shadow, brush... The collection is available in a limited edition in spring/summer 2009 www.maccosmetics.com.


more beautyme>>>

fig.: The products of the 'Style Warrior' collection in animal print packaging, MAC Cosmetics spring/summer 2009.