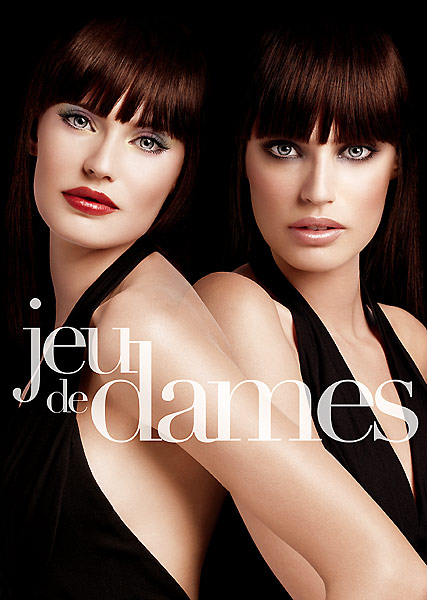 GUERLAIN
fall 2008


Creative Director Olivier Échaudemaison is inspired by the liberalness of the roaring 20s for the new "Jeu de Dames" collection by Guerlain. The "Game of Women" is described as the "Game of Seduction" where the players are leaded by desire and its inherent contradictions.

The motto of these women is "never exactly the same, nor exactly different".
"Jeu de Dames offers a new freedom of expression, playing with light, colours and materials to create as many different looks as you can imagine: matte, gloss, pearlescent, intense or subtle eyes; velvety, metallic, glossy or silky-satin lips. This collection is about juxtaposing or combining two, three or four textures depending on your mood. Change your make-up everyday: deploy a winning strategy and outshine the competition!" Olivier Échaudemaison
This collection is created for women who feel one day sophisticated innocent, another intensely seductive like a femme fatal.

Color Guide
Guerlain offers a color guide for the most beautiful combinations of lips stick and blush colors.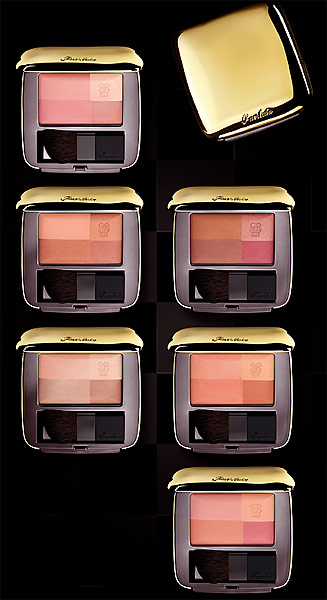 The winning color teams of Blush 4 Éclats and KissKiss Extreme are:
• 01 TENDRE AURORE and 140 BEIGE SANS FIN
• 02 SOLEIL COUCHANT and 121 ORANGE ENCORE
• 03 LUEUR D'AUTOMNE and 141 À JAMAIS BRUN
• 04 ROSÉE DU PRINTEMPS and 160 PLUS QUE JAMAIS ROSE
• 05 ROSE PLEINVENT and 161 ROSE ETERNEL
• 06 NUIT D'ÉTÉ and 120 ROUGE INFINI
fig.: right: Blush 4 Éclats ( left from above): 04 rosée de printemps, 03 lueur d´automne, 01 tendre aurore. (right from above): 06 nuit d´été, 02 soleil couchant, 05 rose plein vent
fig. left: KissKiss Extreme (from above) 140 beige sans fin, 120 rouge infini, 141 à jamais brun, 121orange encore, 161 rose éternel, 160 plus que jamais rose

Check out make-up tips, an interactive game to discover your fragrance (!), store finder,... www.guerlain.com