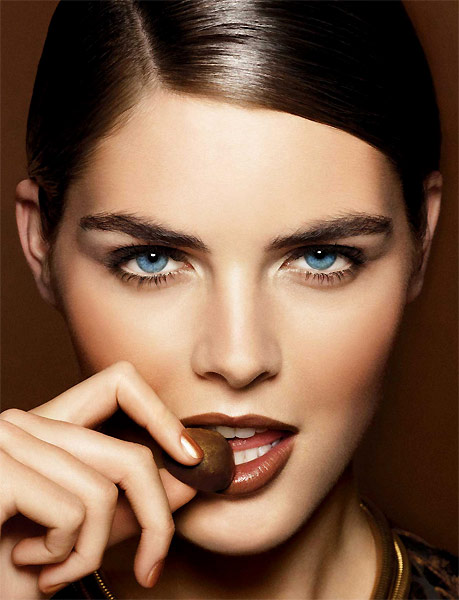 Estée Lauder
fall 2008


Sugar-rich colors!

Chocolate Decadence is the title of this year's Estée Lauder fall collection: the color palette reaches from red and brown of Berry Chocolate Truffles to creamy gold of Caramel Pralines with golden spun sugar.
The new look is created to complete this fall's trendy vintage-inspired suits made of jacquard or tweed, combined with sensual satin blouses in warm golden tones, sculpted boots and gloves in luxury leathers.
The look features intensified lined eyes and softly glowing skin complemented by lightly sculpted lips and perfectly polished nails.
How to create the look:

At first apply the "Creme Caramel Shimmer Powder" to make your skin glisten soft golden. The swirl of milk chocolate, white chocolate and gold looks like ice cream! Brush it over face, shoulders and décolleté for a healthy, illuminated glow. The powder is suitable for all skin tones.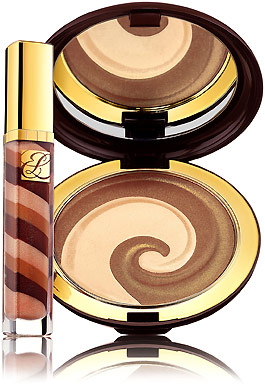 The Berry Chocolate Look
After you shimmer luxuriously golden, apply the Berry Truffle colors to your eyes and lips. In the description of the new look we have found that for "...enhancing the notion of a sinful dessert, each swirled lipstick is a marbleization of two complementary, chocolate hued lip shades that blend together upon application to go on evenly and keep lips feeling cushioned and hydrated."
The glosses and lipsticks of this collection are infused with a specially designed chocolate raspberry scent!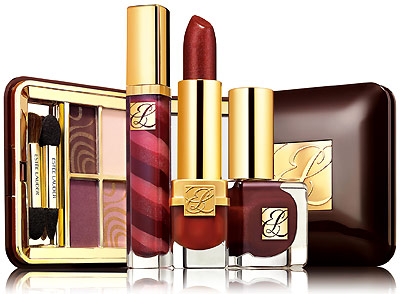 If it's not enough of Berry Chocolate now around you, polish your nails with the lacquer in Berry Cordial.
Available for a limited time only beginning September 2008 at www.esteelauder.com and Estée Lauder counters.


more beautyme>>>